Does it make you nervous taking your baby on a trip out of town. It really worried me with Jonas and even though now, with Juliana, I am much calmer I still felt nervous about taking her on a trip. Her first trip went wonderfully though and now I am ready to take her on many more adventures. There are definitely things that we did that made it easier to travel with her. I really want to share with you all these 10 tips for traveling with your baby.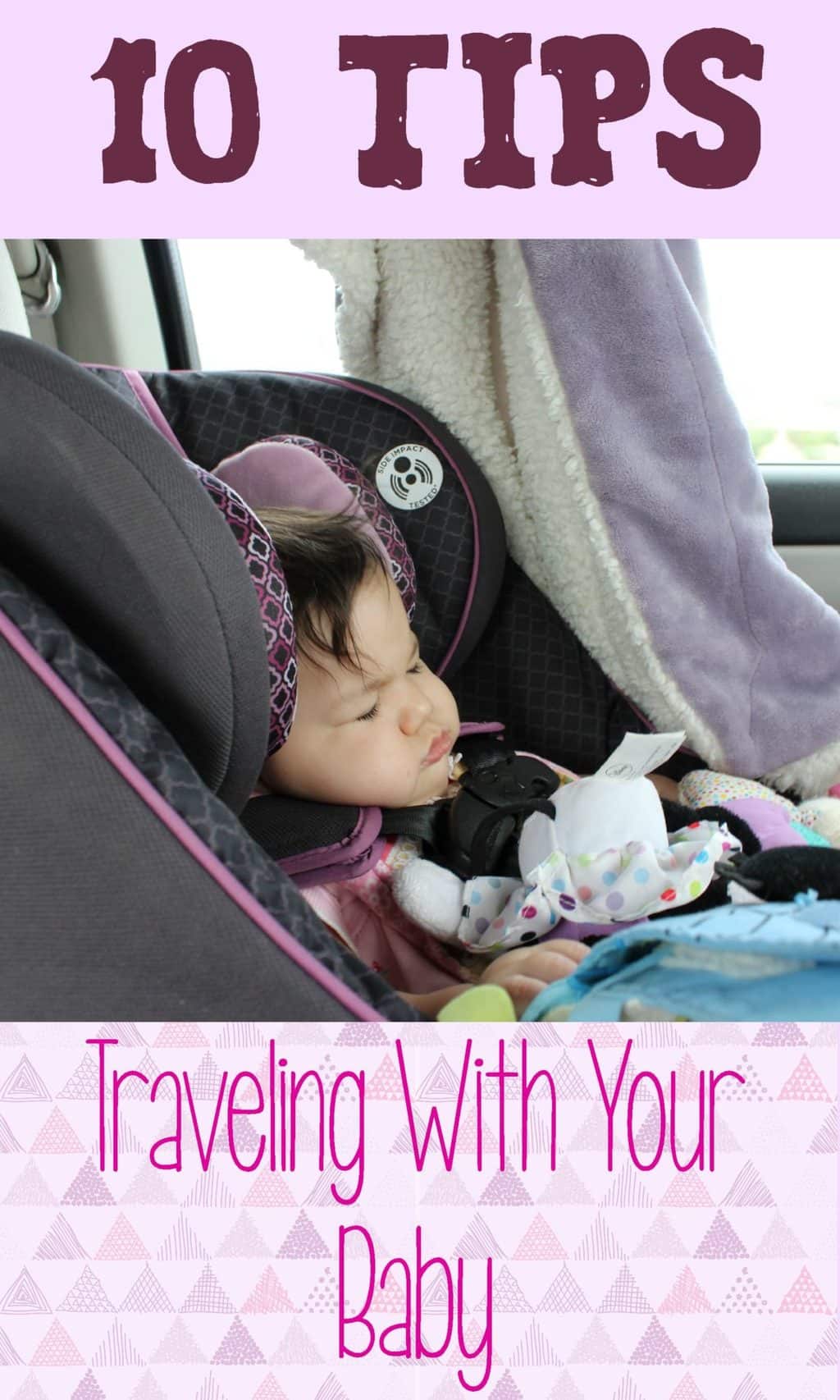 1.Make Sure Your Baby is Traveling in Comfort
If you are going to be traveling on a road trip you need to make sure your baby is comfy. A comfortable car seat is the way to go. I love our Graco Convertible car seat because it is so cushy (it's also pink and purple). Juliana slept the whole way there and most of the way back with no fuss.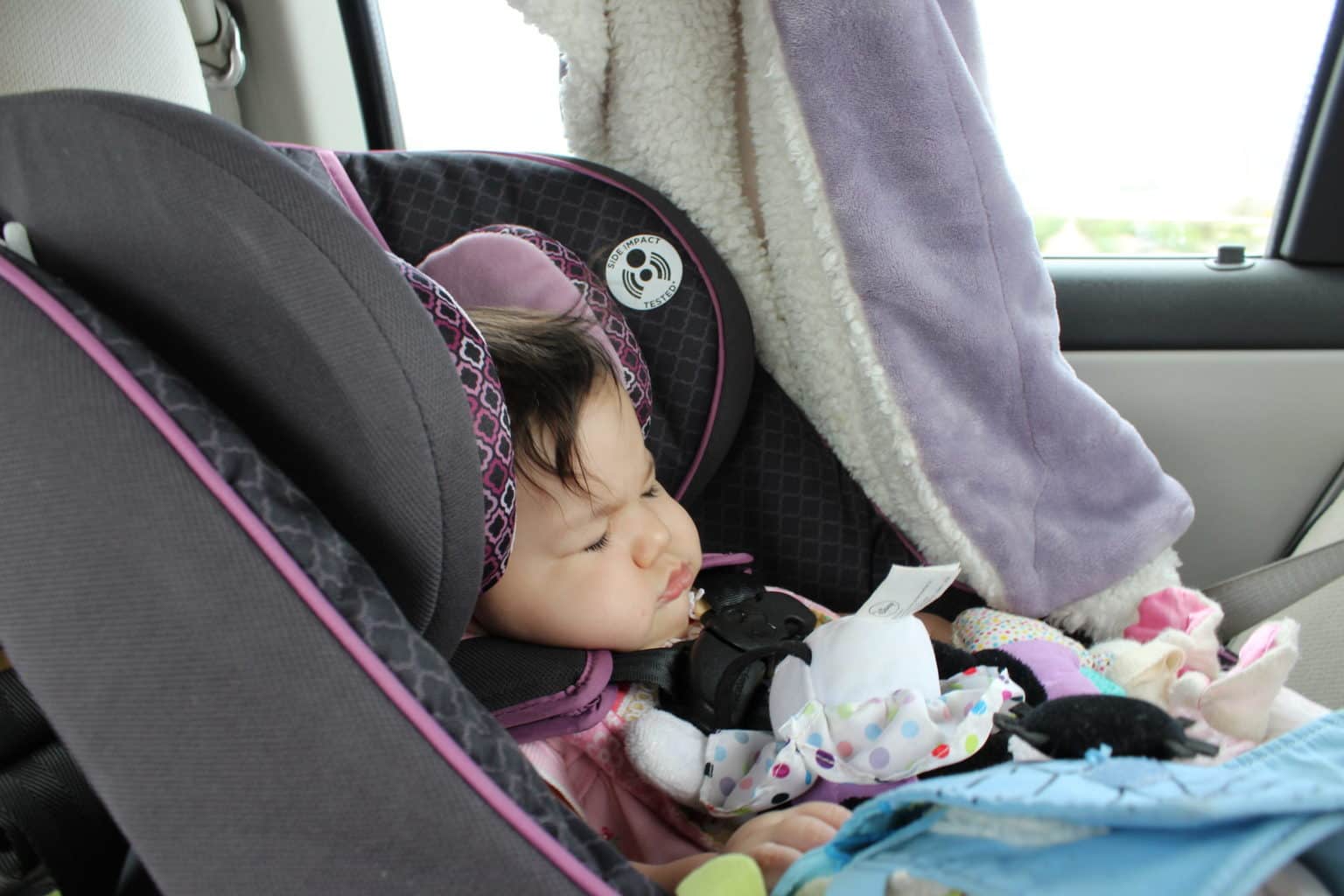 2. Have Baby's Favorite Music Ready
I know that your baby can't tell you what music they like, but our baby has certain types of music that will calm her down. If Juliana is having a crying spell classical music or Disney princess songs usually go a long way in calming her to sleep. It's nice to keep that music ready to go in case she starts getting fussy on the road.
3. Make Sure Your Baby has a Comfortable Place to Sleep
Most nice hotels offer cribs, which is nice if you have limited space in your car for a play yard or travel crib. The mattress in the hotel cribs are usually more comfortable than a play yard. Call ahead to see if they have one available for your stay. Of course, a Pack N' Play can work just as well in making your baby feel like home when you are out of town.
4. Be Prepared if you Breastfeed
Breastfeeding adds a whole other element to your trip. If you pump and have a supply a soft sided cooler is great for traveling with stored breast milk. Having a breastfeeding cover on hand is great if you are going to be out and about with your baby and like to have extra privacy like I do. If you are looking for a great breastfeeding cover be sure to check out my review of the cover I used on our trip from Jasmine & Co.
5. Take it Easy
If you are easing into traveling with your baby take it easy. Don't load up your itinerary, be flexible. On our first trip most things we wanted to do were in walking distance of our hotel. If Juliana got fussy or overtired it was easy to just head back to the hotel to nurse, take a nap, and recharge with the baby. My husband and son would take these times to swim in the hotel pool or go down to the beach. That made it easy to meet back up with them when Juliana was ready to go.
6. Make the Trip Short and Sweet
For me it's best to start babies off with trips that are short and sweet.
These weekend getaways will be enough time for you and your family to have fun and your baby to not get too tired out. Our 3 day trip was the perfect length for Juliana. We had a ton of fun and the best part was mommy and baby went home happy and not too drained.
7. Stick to Your Baby's Routine
It helps if you can stick to your baby's routine as closely as possible. This way your baby transitions well coming home from your trip. We weren't too strict about this, but I did try to be back to the hotel around the time Juliana usually goes to bed. She slept all night each night of our trip and went right back to her routine when we came home.
8. Bring Extra Clothes
Babies are unpredictable! You never know when you are going to have an unexpected blow-out or spit up. So, be prepared with extra set of clothes. I'd say at least two outfits a day is sufficient. Remember to always have an extra set of clothes with you when you are out and about and pack for unusual weather. When we went to the beach I was happy to have summery clothes for Juliana because it was unusually hot and humid.
9.  Bring a Stroller
Always bring a stroller when traveling with your baby. Strollers are useful for so many things from carrying your luggage to the hotel room to holding your shopping haul. It also makes a great place for your baby to nap and get changed on long outings.
10. Turn Your Trip Into Opportunity for Your Baby to Learn & Grow
I don't like it when people state the reason for not traveling with their babies is that they won't remember it. On Juliana's first trip I can honestly say I feel she learned and grew. Your baby is always learning from things they see around them. I loved the opportunities she had on our trip to be outside learning and bonding with her family. Juliana's bond grew a lot more with her big brother on our trip since they were always in close quarters. I noticed her communication and interaction increase with him more over the course of our trip and it continued at home.

Do you have any baby travel tips? I would love to hear from you in the comments below.

This post may contain affiliate links. All opinions are my own.
Here are some other posts you might like!