Homework struggles are just something that comes with being a parent. Especially if you have more than one child. All kids are different right?
As a mom I've dealt with my fair share of homework struggles. I've learned that sometimes instead of putting more pressure on my child I need to do some self reflection.
Is there something I could be doing differently to help my child with their homework struggles?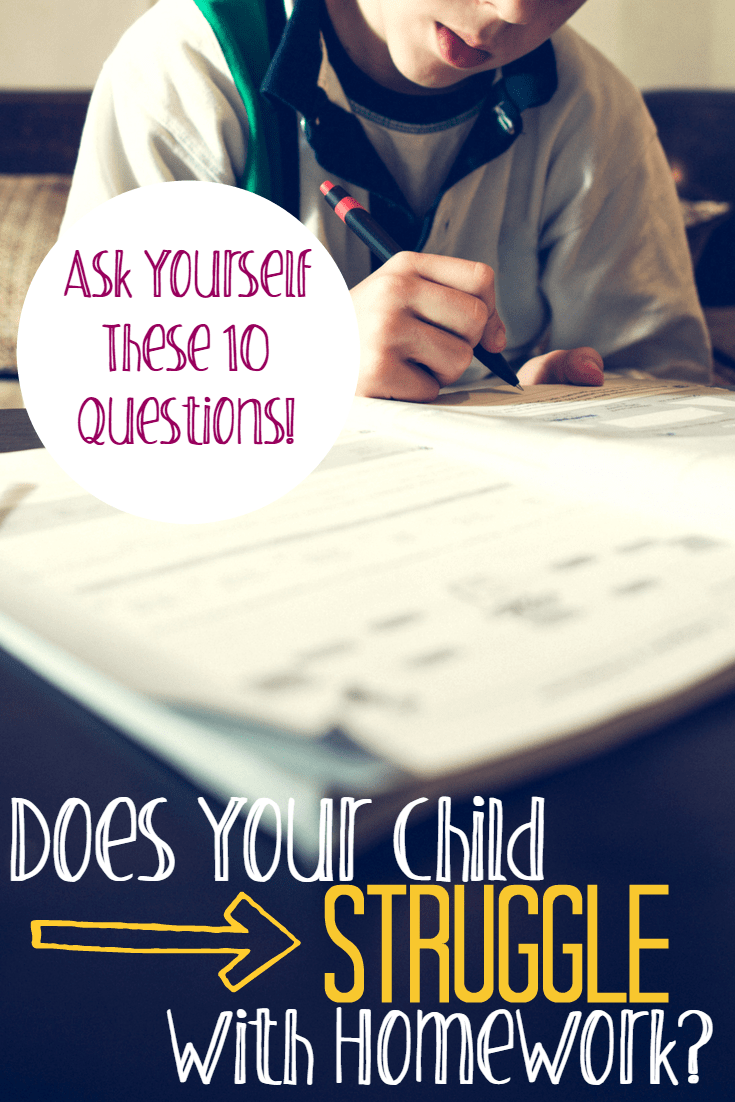 Does Your Child Struggle With Homework? >> 10 Questions to Ask Yourself
When you have a child who's struggling with homework it's easy to immediately start asking them questions. Why aren't you doing your homework? Is there something going on at school? Are you paying attention in class?
Hearing that your kids are struggling with anything is enough to send moms into panic mode. Right? That's why now I am trying to do better by spending time reflecting on the problem and what I need to be doing to help.
If your child is struggling with homework issues I suggest you take some time to relax, reflect, and maybe ask yourself these 10 questions.
Are there any distractions during homework time? At our house it can get distracting during homework time. Especially since we have a toddler.

Possible Fix- Figure out a quiet activity younger siblings can do while older ones are working on homework!

Are you giving enough support? Things can certainly get hectic for moms that work or that have other siblings to take care of.

Possible Fix- Figure out a one on one time you or your spouse can devote to helping with homework or consider hiring a tutor. 

Is my child fueled to do homework? Kids burn a lot of energy at school and when playing at home. Let's face it, we as parents don't know what they had to do in their full day of school, unless we get them to talk about their day. Was there P.E. or testing? These things require a lot of energy

Possible Fix- Consider doing homework immediately after snack time, so your child has replenished energy.

What is our homework time? Sitting down to do homework right before bed can be a recipe for disaster. Kids are tired and cranky not ready to put their brains to work.

Possible Fix- Find a comfortable time between the end of school and bedtime. Too soon after school and they might feel burned out, too soon before bedtime and they might be too tired.

Is homework a part of your routine?Kids love routines, something they can come to expect every day.

Possible Fix- If you don't include homework in your routine consider adding it to a written daily schedule your kids can see or doing it at the same time each day.

Are you maintaining your patience?

No judgement, all moms lose their patience sometimes. However, we need to reflect that our kids want to do well on their homework, but are struggling.

Possible Fix- If you feel yourself getting frustrated during homework time step away and think about what else you can do to help.

Is your child getting burned out? How long are you spending on homework per day? 15 Minutes? One hour? Two Hours?

Possible Fix- If you are spending more than 15 minutes per day on homework it's possible your child is getting burned out. Remember they did just spend a significantly long time at school doing similar work.

Does your child understand the subject matter? Is there a certain area your child is struggling with? Maybe math, science, or reading?

Possible Fix- Look up some hands on activities or videos that might help them grasp the subject better. If that is not working consider hiring a tutor that specializes tutoring in that subject.

Are you communicating with your child's teacher?

Sometimes teachers can provide valuable insight to your child's performance. They can offer tips that will help you guide them at home and work with you to come up with solutions.

Possible Fix- Schedule a meeting with your child's teacher to discuss homework.

Is your child getting an excessive  amount of homework? With high state standards many schools are piling on pages of unnecessary homework to prepare students for testing. My second grader currently comes home with 12-14 pages of homework per week.

Possible Fix- In my opinion families should decide how much homework is right for them. Consider meeting with your child's teacher or principal if you feel your child's homework is excessive to discuss possible solutions. We were able to reduce our child's homework significantly as a result of a parent-teacher meeting.
No parent wants their children to struggle with homework. All children are so diverse that there are bound to be homework problems that arise. The key to fixing those problems sometimes lies in our own personal reflection as parents. Asking ourselves important and sometimes tough questions that will, in the end, help our kids overcome those hurdles!
Do you have a child that struggles with homework? What concerns do you have about homework? I would love to hear your thoughts in the comments below!
You May Also Like: