Disclosure: This post was sponsored by Groupon. However,  I always write my own honest opinion in each of my posts.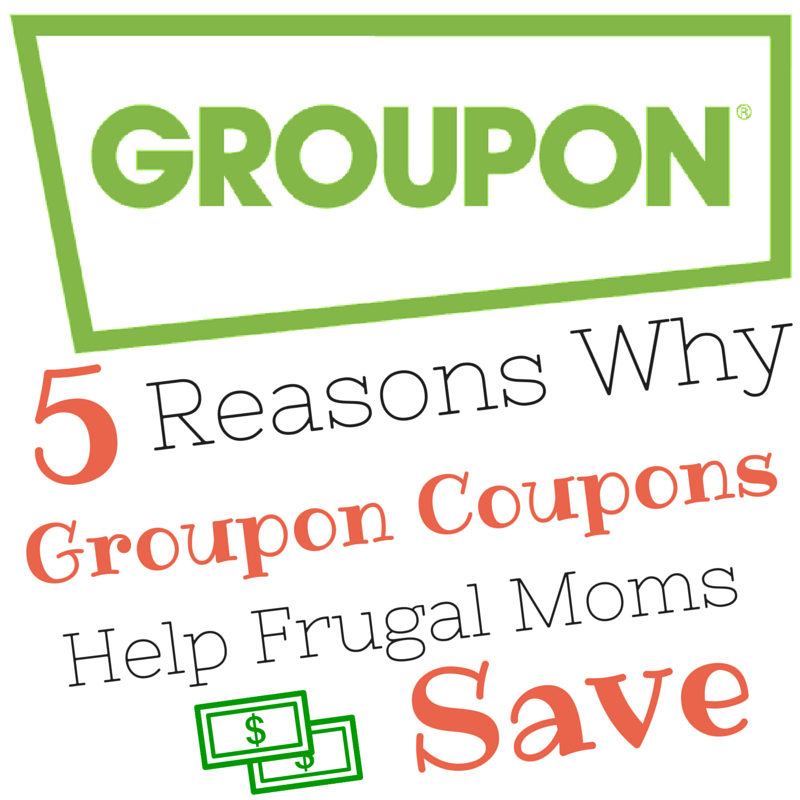 Are you a frugal mom? Have you heard of Groupon Coupons?
As a frugal mom myself I know how important it is to find multiple ways to save money for your family. It feels so good getting a percent or dollar amount off of purchases that you would already be making every day.
I've already used Groupon in the past as a great way to save money on family fun in our city and while on vacation. What I just recently found out was that Groupon also has an amazing section of their site, Groupon Coupons.
5 reasons why Groupon Coupons help frugal moms save
1. Save At Places Where You Already Shop
Groupon Coupons has thousands of deals at thousands of stores! Whether you are looking to save on travel, groceries, or a new wardrobe you will be sure to find what you are looking for.
They have dollar off coupon codes to shop at places like Target and Petsmart. These are places I shop every day for my family.
I love that I can use Groupon Coupons to get discounts on theme parks for our family vacations and movie tickets for date night out with my husband.
2. Stay Updated On Sales
Use Groupon Coupons to stay updated on current sales going on at your favorite stores!
If you look at the Groupon Coupons page it shows the top deals for the day, including sales. Today Wal-Mart was having a sale of up to 90% off clearance items, which showed up right on my Groupon Coupons front page.
Check daily to see updated sales. There is even a section under categories to show sales by special events and holidays.
3. Savings Are Big
You can find huge savings on Groupon Coupons, beyond a few dollars or 10% off. As I mentioned before Wal-Mart was having a deal for 90% off. That's HUGE savings for my family!
If you are planning a trip make sure to take advantage of their big savings from companies like Travelocity, Priceline, and Hotwire.
4. Find Deals Exclusive To Groupon
Make sure to look closely at the deals shown on the Groupon Coupons page. You will see in the corner of some of the deals that it says exclusive.
These deals are exclusive to Groupon Coupons and cannot be found anywhere else.
5. These Deals Are Easy To Navigate
One of the things I love most about Groupon Coupons is that they are so easy to navigate.
You can sort deals and coupons by what category you are looking for or by special events/holidays. There is also a box to search for your favorite store.
Click HERE to start saving with Groupon Coupons today! Follow Groupon on Facebook and Twitter to stay up to date on money saving deals. 
Do you love using coupons to save money? Have you tried Groupon Coupons? I would love to hear from you in the comments below! 
---
Here are some other posts you might like!