This is a sponsored post written by me on behalf of Tyson Food, Inc. All opinions are entirely my own.
Are you gearing up for Mother's Day brunch? 
I love being able to spoil my mom on Mother's Day! One of the easiest ways to do this is serving her a Mother's Day brunch. My mom and I both love a good brunch. It's such a fun way for the grandkids to spend the morning with her, too.
One of the reasons I love Mother's Day is because it gives me the opportunity to show my mom just how much I love her. She is not only my mom, but we have also grown to be close friends. We love traveling together and can talk for hours.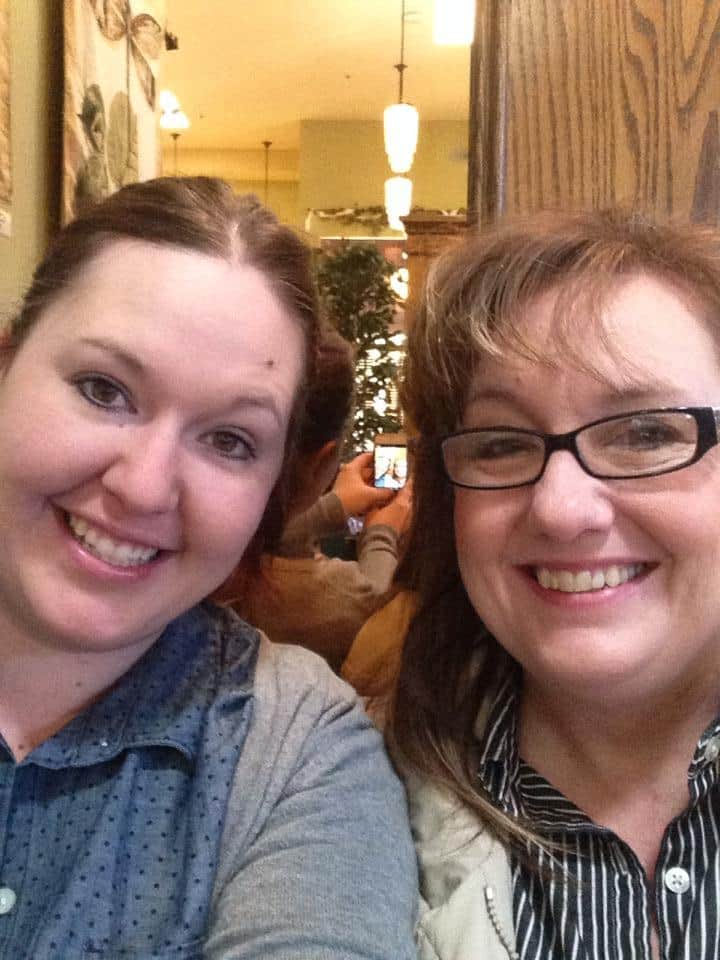 Country Style Biscuits & Gravy
Today I wanted to share with you an easy country style biscuits and gravy recipe that my grandma taught me to make. It's perfect for Mother's Day brunch and will feed the entire family!
I promise your family will love this creamy biscuits and gravy recipe. If you want to incorporate it into a Mother's Day brunch just throw in a few easy sides. Check out all the yummy sides we used for our brunch in the recipe below!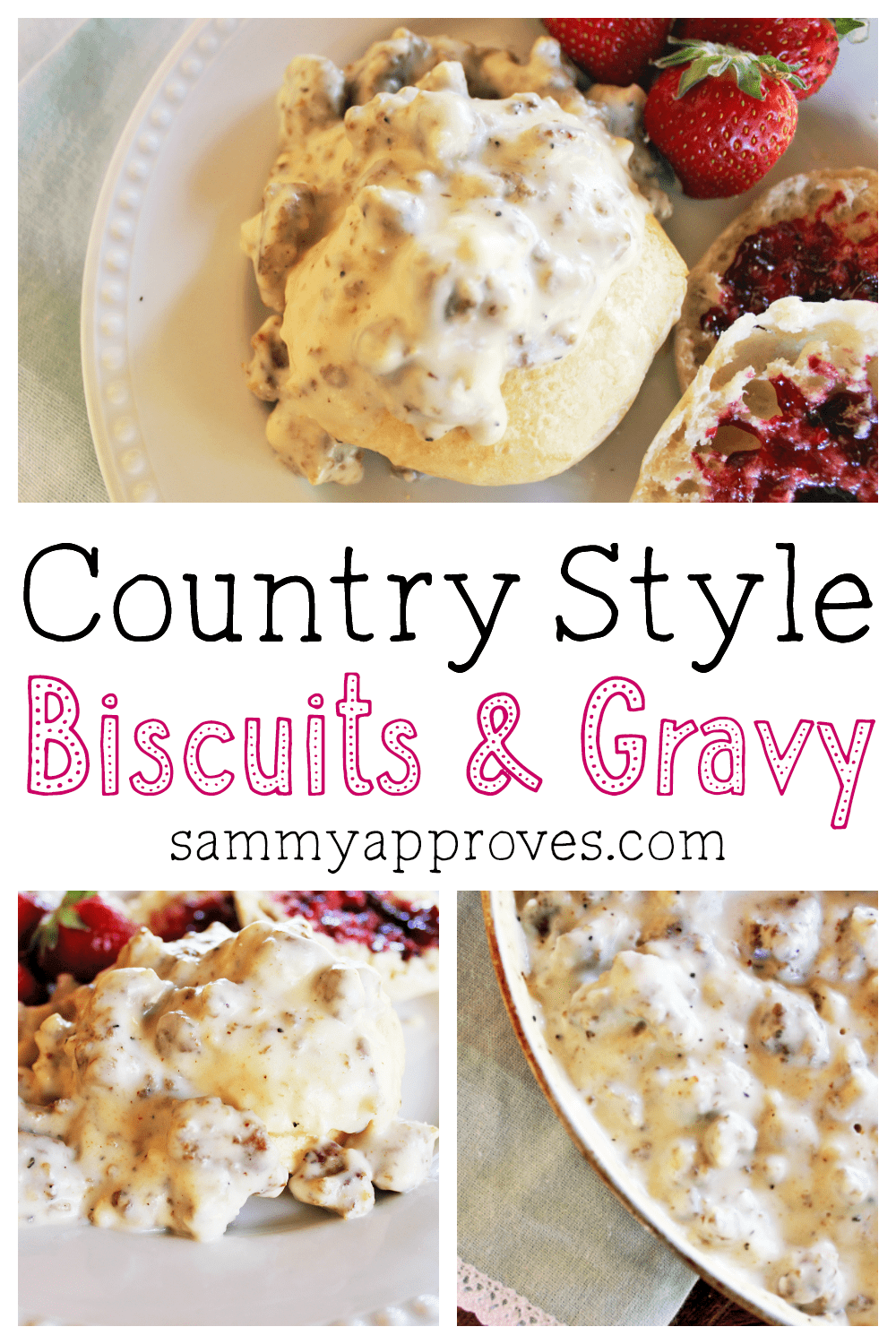 Here's What You'll Need:
For our brunch we went to Walmart and picked up some Thomas® English Muffins, jam, orange juice, and fresh fruit to go with the biscuits and gravy!
1 lb. Jimmy Dean® Regular Premium Pork Sausage

Bacon (Optional)

1/2 Cup All-Purpose Flour

2-3 Cups Whole Milk (You can use regular milk, the consistency will just be less thick)

Your favorite biscuits (Prepared)

Salt & Pepper to taste
Here's What to do:
In a large skillet, brown your sausage and a few pieces of cut up bacon (Do not drain grease)

Once it's done add in about 1/2 cup of all-purpose flour. Mix with a spatula until the flour combines with the grease
Gradually add in milk and stir until it reaches your desired consistency. I usually use about 2 cups of milk because I like thicker gravy.
Add salt & pepper to your taste
*You can serve with your favorite biscuit recipe or pick up some easy ready to make biscuits from the store. This is what I usually do and will have them baking while I prepare the gravy.
We set up our biscuits and gravy on the table so people can serve themselves. I like to put out different flavors of jam for the English muffins. Blackberry jam is my personal favorite!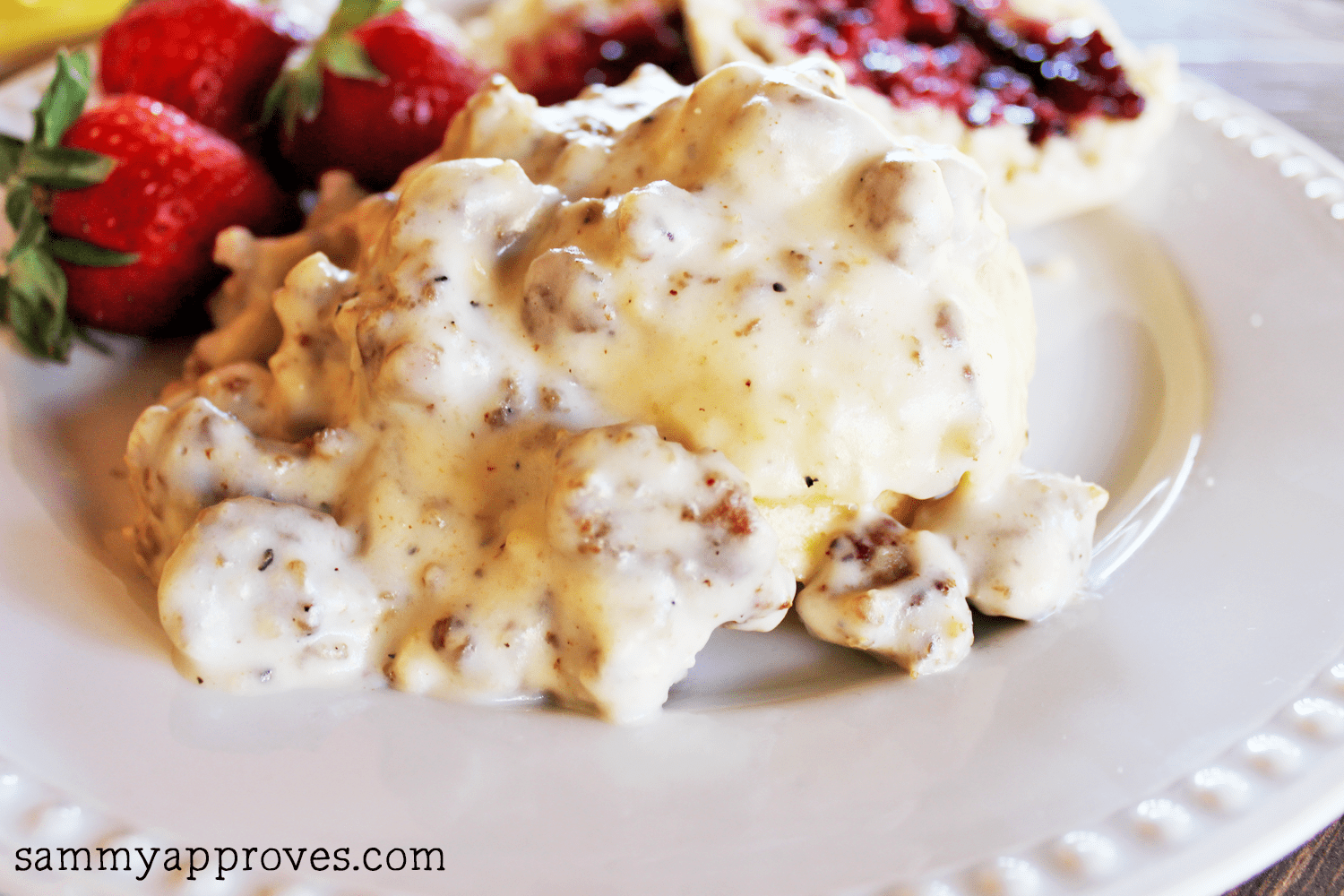 Mother's Day #Sweepstakes!
I'm so excited to tell you about a special Mother's Day Giveaway with Tyson & Walmart. Shoppers are able to enter to win 1 of 5 $200 Walmart gift cards!
If you would like to enter the contest, post a picture of any of the following on Instagram or Twitter and hashtag it #TysonlovesMom and tag @TysonFoods:
⦁ Your mom
⦁ Your brunch with mom
⦁ Breakfast in bed for mom
Visit www.tysonlovesmom.com for more details on how to enter this amazing Mother's Day sweepstakes. Good luck! 
What do you love to serve for Mother's Day brunch? Do you have any Mother's Day brunch plans this year? I would love to hear from you in the comments below!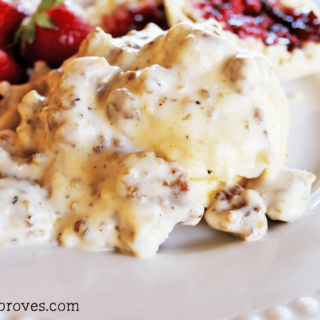 I promise your family will love this creamy biscuits and gravy recipe. It's very easy with minimal ingredients and can easily be served for brunch or for a big family breakfast!
Servings

Prep Time

5-6

People

5

minutes
Servings

Prep Time

5-6

People

5

minutes
I promise your family will love this creamy biscuits and gravy recipe. It's very easy with minimal ingredients and can easily be served for brunch or for a big family breakfast!

Servings

Prep Time

5-6

People

5

minutes

Servings

Prep Time

5-6

People

5

minutes
In a large skillet, brown your sausage and a few pieces of cut up bacon (Do not drain grease)

Once it's done add in about 1/2 cup of all-purpose flour. Mix with a spatula until the flour combines with the grease

Gradually add in milk and stir until it reaches your desired consistency. I usually use about 2 cups of milk because I like thicker gravy.

Add salt & pepper to your taste