Are you looking forward to holiday dinners & desserts with family?
I've always been a foodie, so of course holiday food is one of my favorite parts of this time of year.
Gathering together with family and loved ones make these times extra special. We have a large family and plenty of holiday meals to look forward to this year!
It's always so rewarding to me if I can bring a dessert or side dish that the whole family can enjoy.
Being a toddler mom cooking holiday desserts isn't as easy for me as it used to be. So, this year, I am determined to make easier holiday dishes. Ones that don't take too much of my time away from my toddler who would rather be attached to my hip while I'm cooking than playing with dad.
If you are a busy mom check out my recipe for pumpkin sugar cookie crunch below! I promise it is easier to make than it looks.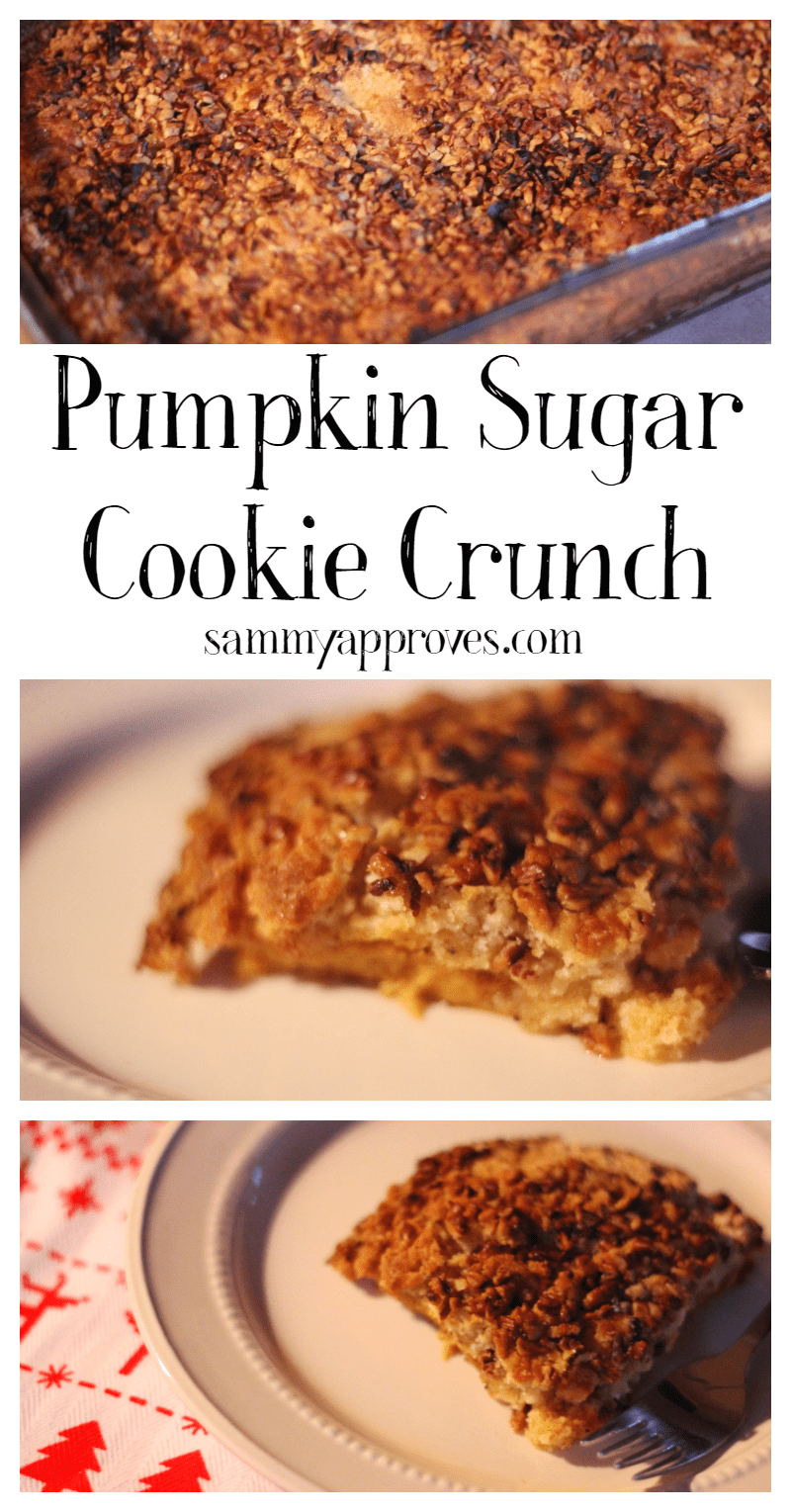 Pumpkin Sugar Cookie Crunch
Anything pumpkin and sugar cookie sounds good to me. This dessert was a big hit with my family and one I'm sure I'll make this Thanksgiving because they'll eat it right up and it will only take me about 15 minutes to throw together and 35 minutes to make.
To me this tastes just as good as pumpkin pie if not better. Without the hassle of laying out the crusts!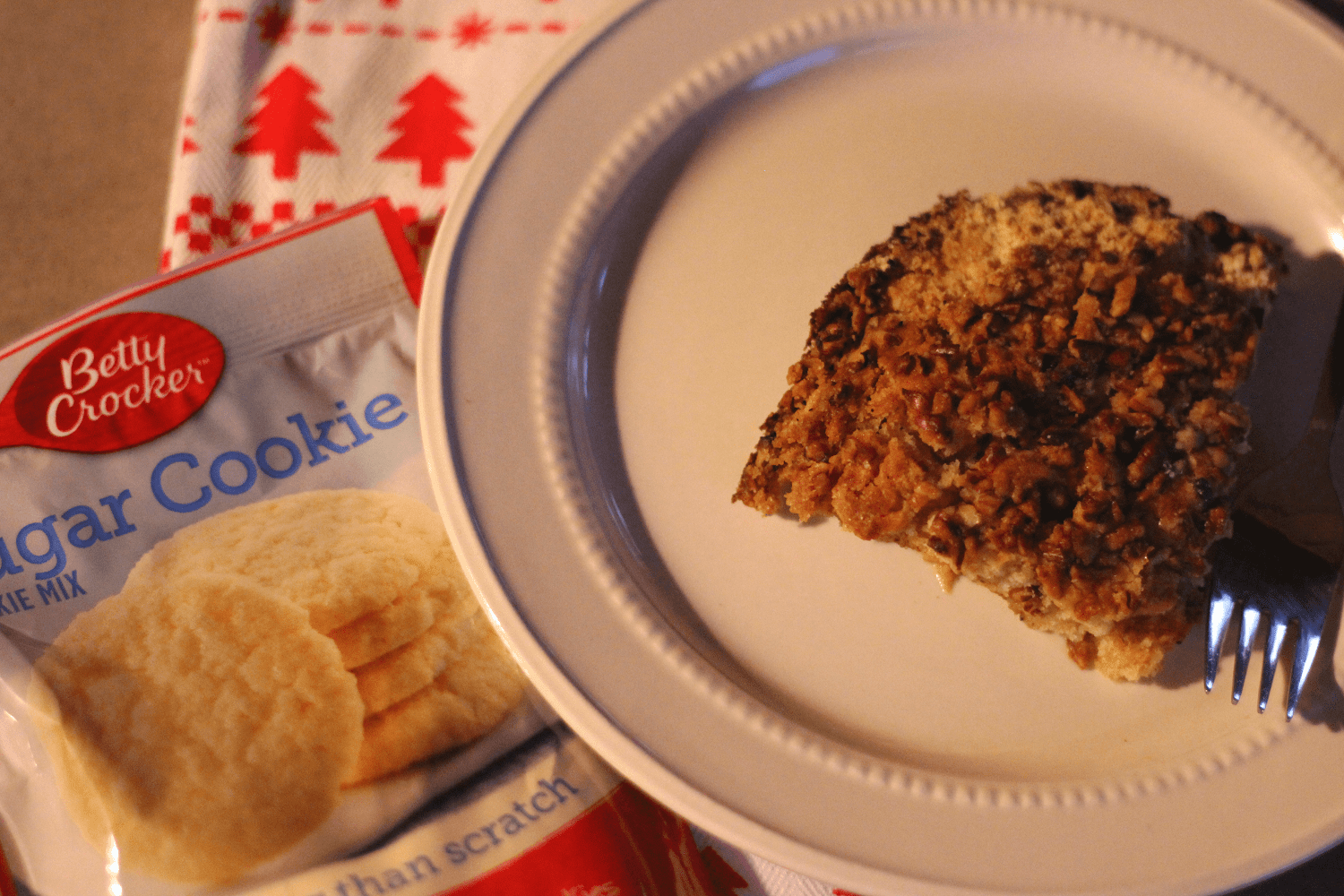 I used Betty Crocker's Sugar Cookie packets to make this dessert. If you are headed to Walmart make sure to stock up on these useful little packets. Not only are they great for baking cookies and desserts like this, the sugar cookie packets were only $1 each! Making this dessert not only easy on me, but easy on the budget too.
Here's What You'll Need:
1 Stick Butter
1 15oz Can Pumpkin
1 cup Sugar
3 Eggs
1 tsp. Cinnamon
1/2 cup of chopped pecans
1 15oz can evaporated milk
Here's What To Do:
Step 1: Preheat your oven to 350 degrees. Grease a 13×9 inch baking dish.
Step 2: In a large bowl mix together pumpkin, cinnamon, evaporated milk, and sugar until they are all mixed together
Step 3: Mix in your eggs
Step 4: Pour your pumpkin mixture into the greased baking dish
Step 5: Sprinkle 2 Betty Crocker Sugar Cookie Packs evenly on top of the pumpkin mixture. Do not stir.
Step 6: Sprinkle 1/2 cup chopped pecans on top of the Sugar Cookie Mix layer.
Step 7: Slice up a stick of butter and lay out slices of butter on top of the Sugar Cookie Mix layer.
Step 8: Bake at 350 degrees for about 30-35 minutes or until golden brown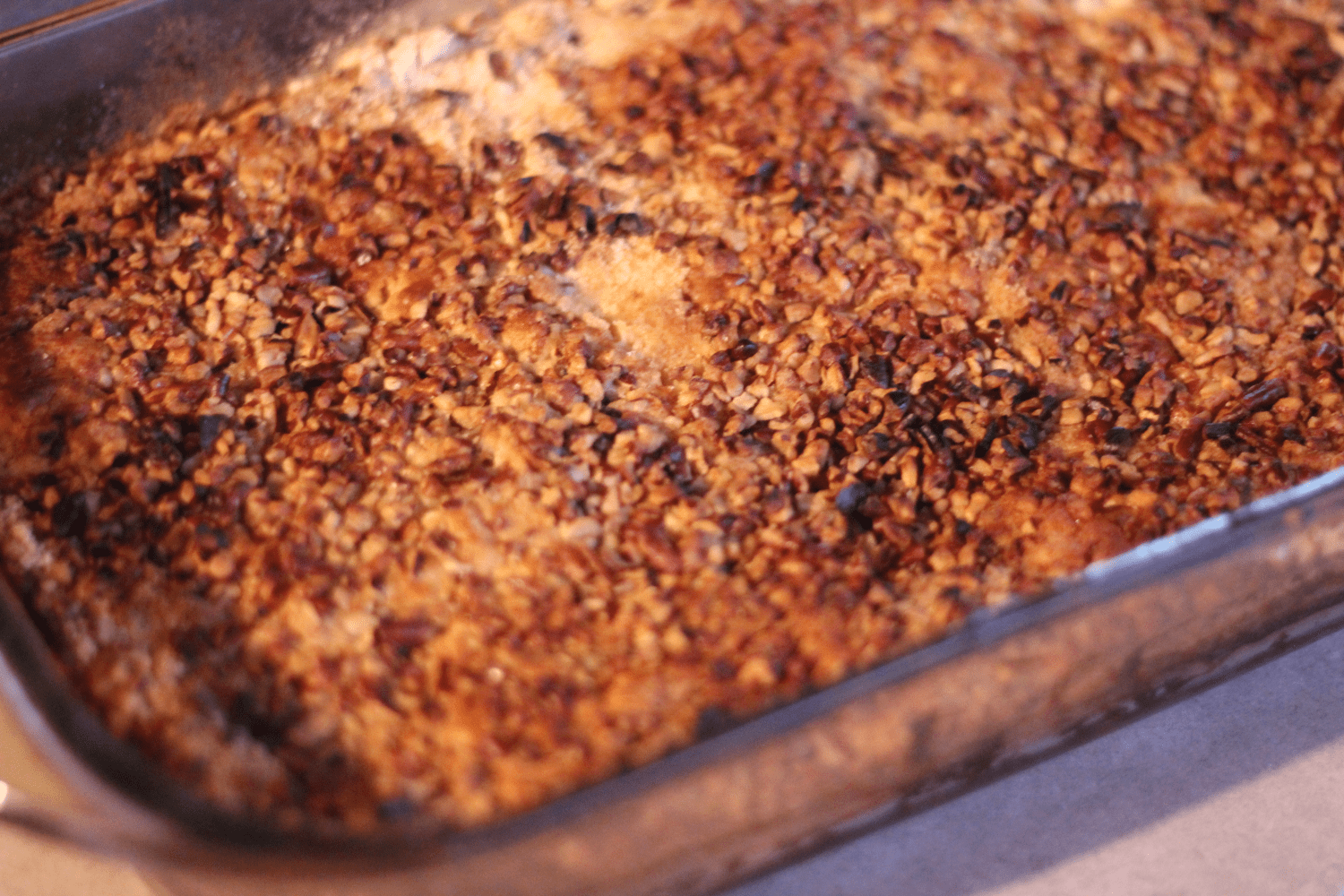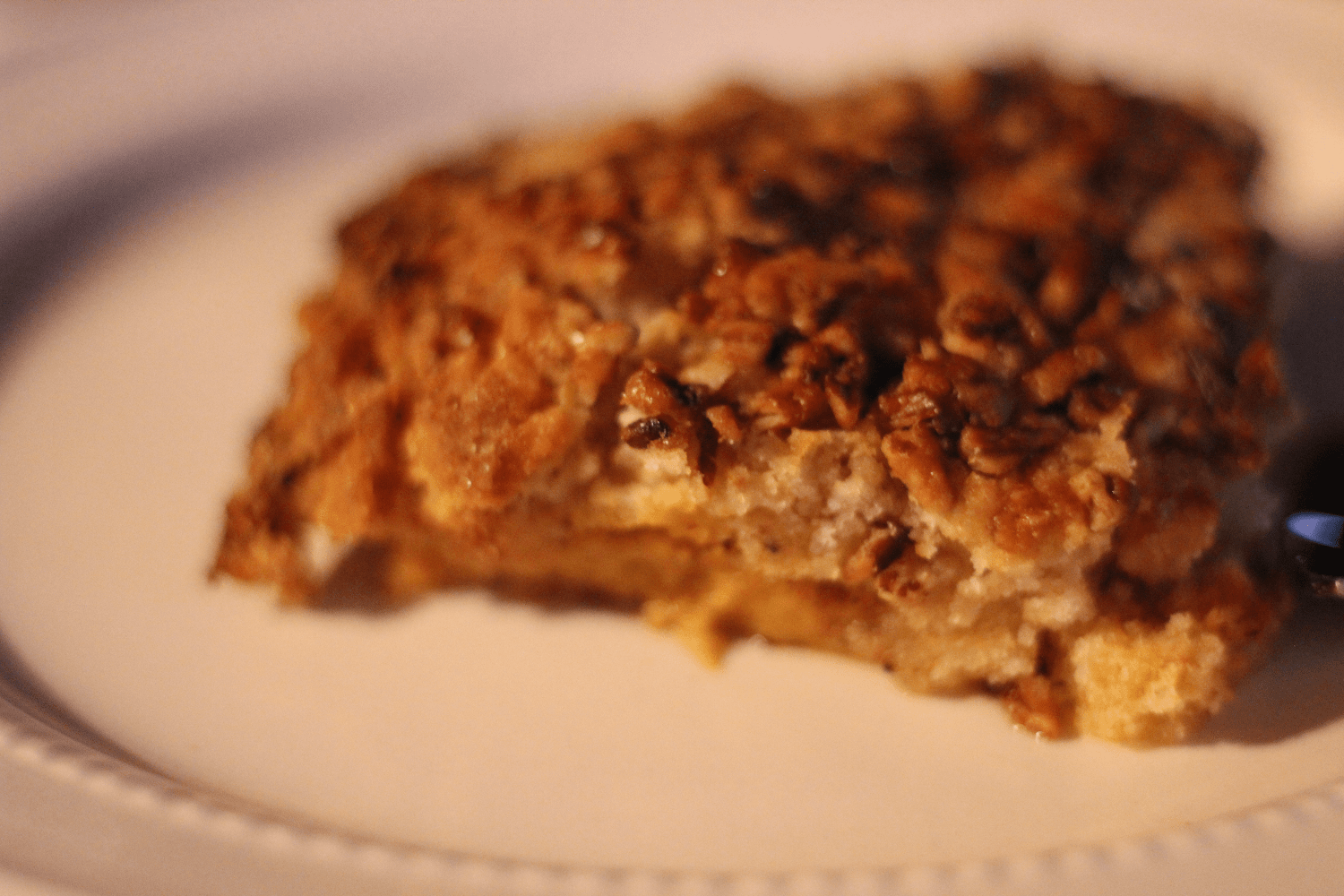 What is your favorite holiday dessert? Did you try this recipe? Let me know what you think in the comments below!

Pumpkin Sugar Cookie Crunch is just like having pumpkin pie with a sugar cookie crust. In my opinion it's even better than pumpkin pie. This recipe is easy, quick, and is sure to be a hit at any holiday meal.
Servings

Prep Time

12

people

15

minutes
Servings

Prep Time

12

people

15

minutes
Pumpkin Sugar Cookie Crunch is just like having pumpkin pie with a sugar cookie crust. In my opinion it's even better than pumpkin pie. This recipe is easy, quick, and is sure to be a hit at any holiday meal.

Servings

Prep Time

12

people

15

minutes

Servings

Prep Time

12

people

15

minutes
Step 1: Preheat your oven to 350 degrees. Grease a 13x9 inch baking dish.

Step 2: In a large bowl mix together pumpkin, cinnamon, evaporated milk, and sugar until they are all mixed together

Step 4: Pour your pumpkin mixture into the greased baking dish

Step 5: Sprinkle 2 Betty Crocker Sugar Cookie Packs evenly on top of the pumpkin mixture. Do not stir.

Step 6: Sprinkle 1/2 cup chopped pecans on top of the Sugar Cookie Mix layer.

Step 7: Slice up a stick of butter and lay out slices of butter on top of the Sugar Cookie Mix layer.

Step 8: Bake at 350 degrees for about 30-35 minutes or until golden brown