Cooped up at home with the kids? Luckily there are so many great kids activities, games, and toys that can keep your kids entertained for hours at home.
When you're looking for things to stock up on for your kids try to find items that meet each of these categories. Try to get a variety of items that allow your child to explore on their own, participate with family members, and learn too.
Educational Activities– Look for fun and engaging educational toys, games, and activities that will keep your kids learning while having fun!
Family Friendly – Find things that the whole family can play together. There are lots of age appropriate games and toys that everyone in the family including your toddler or preschooler can play.
Self Play – It's always nice to find activities and games that our kids can play on their own, so mom and dad can have a little bit of a break. Look for things that will spark one of your child's interests or creativity. Art projects, dress up, and pretend play are a good starting point for little ones.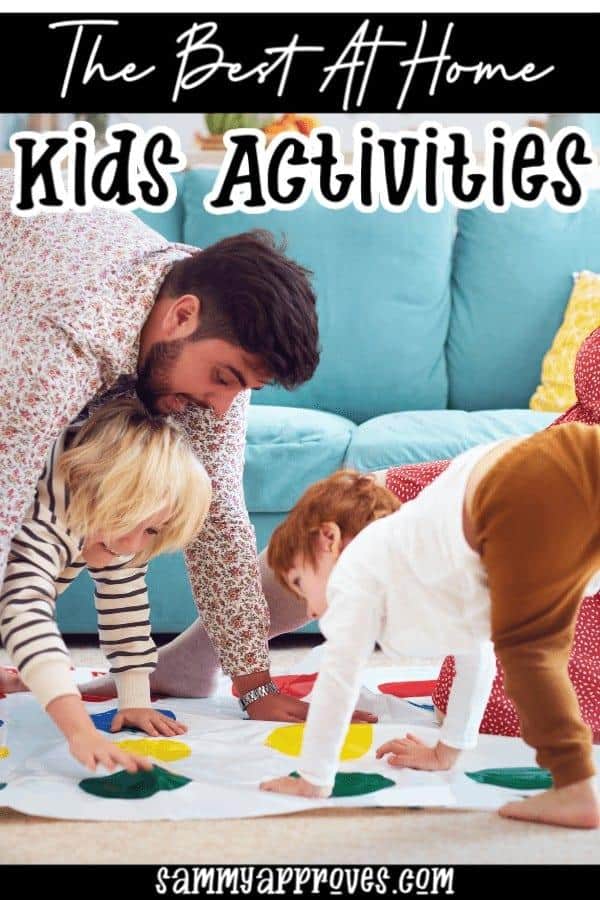 What are the best at home kids games, activities, and toys?
Included in Amazon's Top 100 Toys List for 2019, this award-winning kit, which has been updated with new hardware and content, features three games that encourage drawing, creativity and problem solving. Track children's progress, using child game profiles, on a parent app. Comes with OSMO Base for iPad, new Creative Board, 4 dry erase markers, microfiber eraser pouch, Stackable storage for each game, 3 Game Apps (Monster, Newton, and Masterpiece) designed for beginner to expert levels. Available from Playosmo.com, Amazon.com, Target, Best Buy.
Your mission: find and recover the dragon egg from the castle before the spatial-temporal portal closes forever! With the help of Dooz, your faithful robot, you have been teleported to the Middle Ages. In this epoch, King Badking rules; he has stolen the last dragon egg and plans to make an omelet out of it for his son . . . In a few minutes, it will be too late. Choose to solve this challenge on your own or with a friend! Either way, let's go!
Your mission: Locate and destroy the virus and then escape from the scientific compound before the time-travel portal closes forever! With the help of Dooz, your faithful robot, you have been teleported to the year 2394! In this era, a mad scientist plans to paralyze the entire world  using a powerful cyber virus . . . In a few moments, it will be too late! Choose to solve this challenge on your own or with a friend! Either way, let's go!
This is a new and different regional activity book for a heavy tourist market area aimed at children ages 5 to 8 because summer vacations are for fun and inspires other children to draw & write creatively because it is humorous and written from an 8 year old's perspective!
More than twenty multicolored insects are ready to crawl in just a few folds! Have fun recognizing and playing with them all. Pop out the pieces on each page and follow the instructions to create your perfect little paper friend. Each page features the name of the bug to help you identify them on your outdoor adventures.
Are you ready to Origanimo? With this beginner introduction to paper folding, create a merry band of black cats, each in a unique pose and ready to pounce on the included paper balls of yarn. Precut and creased kitties are ready to pop out and play in just a few folds!
Photo Credit: www.etsy.com
Cute wooden paint kits for kids!
Photo Credit: www.curiositybox.com
A quarterly subscription box with viral physics toys, custom puzzles, and intelligent showpieces that provide science and math enthusiasts young and old with hours of thoughtful, at-home entertainment.
Photo Credit: marvelherotales.com
Join Captain America, Spider-Man and many more heroes as you jump into Marvel Hero Tales, winner of Kidscreen's 'Best Learning App' category!
Marvel Hero Tales uses a unique and innovative system that lets YOU control the story through the power of language. Developed with experts in language development, the system is mapped to UK Key Stage 2/US 2nd Grade reading skills to help with vocabulary development. Use unique word cards to build sentences and decide how you'll save the world!
Find in the Google Play store and ITunes app store.
Photo Credit: www.kodable.com
More than 22 million teachers, parents and kids have used Kodable, a Parent's Choice Award-winning app - to date. Kodable teaches the fundamentals of computer science, Java Script and Swift to children ages 4-11 so kids can build their own games, apps and web sites by the time they reach middle school. While teaching kids very valuable coding skills, Kodable also allows users to nurture and strengthen their collaborative, critical thinking and problem solving skills which can help students in all school subject areas and beyond.
Say goodbye to bedtime struggles! Colgate Magik is an app-enabled kids toothbrush recommended for ages 5+, to make brushing fun while helping your child learn good brushing habits. This is a manual toothbrush, so no batteries are required.
The cutest princess and adventure dress ups for kids. Create hours of creative play for your littles with these dress up clothes.
The Netflix of kids books. Find the best books for kids of all ages, read aloud books, and videos are also available. Right now you can get your first month free.