Summer is winding down, but here in Southern California we still have a few more months left of heat to use our summer toys with the kids outdoors.
We homeschool, so we spend even more outside time during the day when school starts. It's still hot and we need activities and fun toys to keep them entertained during our breaks.
Check out the list below of our favorite summer fun items to keep your kids entertained.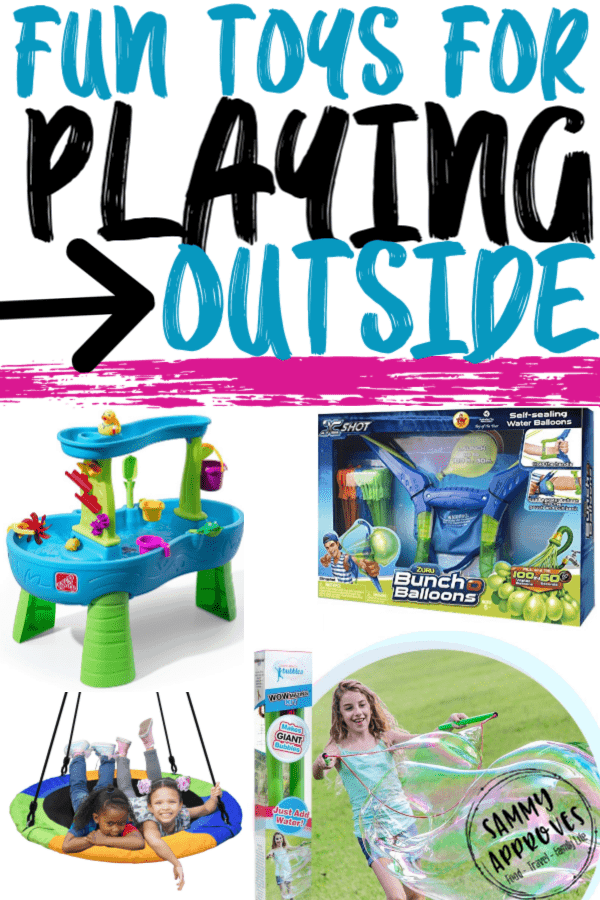 Fun Outdoor Toys for Kids
These self seal water balloons are ready to go right out of the bag!
Blast ZURU Bunch O Balloons spectacular distances with this epic new Slingshot, powered by X-SHOT. Launch balloons up to 100 ft /30m with this light weight and aerodynamic slingshot! Blast the competition out of the water before they can even see you, or before they can even fill one single hand-tied water balloon!
Take the time and hassle out of blowing up party balloons with Bunch O Balloons Party! Fill, tie and string up to 40 party balloons in just 40 seconds! There's no more blowing, no more tying and no need to add ribbon or string! Includes Party Pump & 16 Balloons.
The X-SHOT fast-fill is the fastest filling water blaster ever created. The fast-fill allows you to refill in 1 second and get back to the water blasting action long before your opponents. Just dunk, fill and close with rapid sealing technology. It shoots up to 30ft/10M and you can fill it anywhere. Because a fast-fill is everything. Up your game!
UNIMAGINABLY GIANT BUBBLES: this giant bubble wand creates long, giant bubbles thanks to a 2-handle design, which has been used to set every big bubble world record in the last 25 years. Passers-by will be sure to say "WOW... Amazing"!
Create a mini water park right in your back yard with the Rain Showers Splash Pond Water Table™ by Step2. The two-tier design creates a showering splash below! Just scoop up water from the pond and pour into the top tray to make it rain. Watch as the rainfall activates the maze-like spinners and ramps, a great way to show a cause and effect relationship. From the side flipper to the put-and-place maze pieces, kids will have lots of splish-splash fun with the included water table accessories!
Target is attached to a durable and stable stand. It can also be used without the stand by attaching it to a wall, tree etc.
The push mower features realistic sounds and bubble maker, which encourages pretend play, bring tons of bubbles.
Colors may vary - Red or Blue. Bump n Bounce Body Bumpers 2 Pack is perfect for hours of active, high-powered fun! Slip into the inflatable body bumper suit and challenge a friend to some fun and safe backyard belly-to-belly bumping fun! Can be inflated with a manual or electric pump (not included)
Bring the thrill of the theme park home with Little Tikes Fun Zone toys! The Dual Twister gets kids spinning round and round, with a friend or on their own. Want more action? Take it outside, attach the garden hose and now you've got a wet 'n wild Dual Twister!
Run, jump and stomp to launch Stunt Planes; 100% kid-powered. No batteries required. Great for year round fun to get kids away from screen time and play with outdoor toys. These air rocket launchers are the perfect toddler toys for girls and boys ages 5 and up.
Cool Off on Hot Summer Days --- Water spray from the horn from high of the unicorn water sprinkler