One of my favorite California coastal towns is Monterey. It's absolutely beautiful and the perfect place to take the kids on a weekend getaway.
Planning a family road trip?
Whether you are native to California or traveling from afar, if you are looking for a fun weekend or week long vacation Monterey is a great choice. We took our kids this past weekend and had a blast, in fact I wish we had longer to explore everything Monterey had to offer!
I'm so excited to share with you some of the things your family is sure to love in Monterey Bay!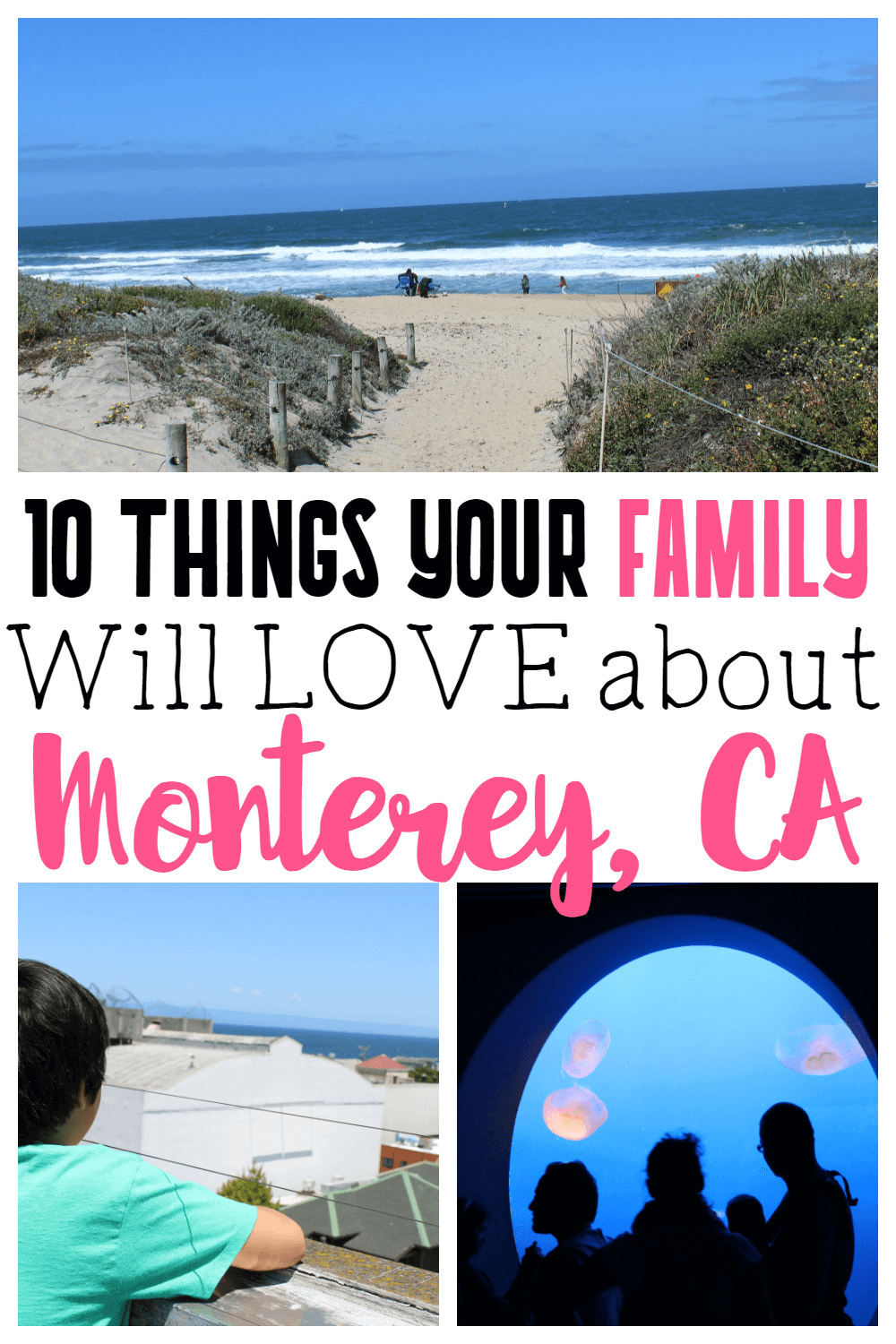 10 Things Your Family Will Love About Monterey, CA
Ocean Views

Monterey is full of great places to get a beautiful view of the ocean. From the top of a parking garage to the observation deck at the Monterey Bay Aquarium, we were soaking up those ocean views! 

Monterey Bay Aquarium

Of course the Monterey Bay Aquarium is a must see. Visit during the week in the afternoon if you can because it gets busy! Even with the crowds it is worth the visit.

My kids and I are always facinated with the jellyfish exhibit. At the Monterey Bay Aquarium there are some amazing jelly fish! Your kids will love the touch pools and interactive activities. This aquarium is very toddler friendly with lots of play areas for toddlers and kids.  There are plenty of places for parents to sit and watch as they play. Since the aquarium is huge these are great places to sit and rest before moving on. Definitely take the time to go out on the observation deck. There are beautiful views on different floors!

Beautiful Beaches

We love the beaches in Monterey County! Luckily we were able to squeeze in a visit to a beach in Moss Landing during our visit.  This beach was gorgeous and not crowded at all. If we were staying the week we definitely would have taken a whole day for playing on the beach!

Farmer's Markets

Since Monterey is a farming community you are sure to find fresh fruits and vegetables at one of the farmers markets. We visited the farmers market in Salinas and got huge strawberries that the kids loved! 

Yummy Food

I always love being by the beach to get yummy sea food! Monterey is a great place for good food. Bubba Gumps is conveniently next to the aquarium and if you walk down the street a little more you will run into Ghirardelli Chocolate!

Nice Weather

Your family will love the weather in Monterey. While we were there it was sunny, but not hot. There was always a coastal breeze, perfect for enjoying the outdoors and playing on the beach.

Photo Opps

Do you love taking photo's while travelling? Me too! There are so many family photo opps in Monterey while walking through Cannery Row, on the beach, and at the aquarium!

My favorite is standing under the tidal wave in the aquarium. You stand under the glass and wait for the wave to come over your head.Waiting…….Here comes the wave!Such an awesome photo moment with that big wave coming down in the background. It's hard getting a toddler to stay still during pictures like this.

Cannery Row

Cannery Row is one of my favorite places to go when visiting Monterey. This is a great place to find shopping, good food, and the Aquarium! There is definitely a lot in this area we still have to explore! If you are staying in a hotel during your trip, this would be a good area to go. 

Driving to Monterey

The drive to Monterey is beautiful, especially if you are driving down California highway 1. This isn't the route we took on this trip, however the drive into the city was still beautiful with lots of sights to see along the way!

Wildlife

Monterey Bay is full of wildlife! If you look out on the ocean from the aquarium's observation deck you can see otter's and seals. On the beach make sure to look out for whales and dolphins. While you are driving you may even see a deer or two.

We were able to learn lots about Monterey wildlife at the aquarium and the kids had fun looking for animals while we were out and about! 
Check out See Monterey for more family travel ideas in Monterey County! 
Would you like to win tickets to the Monterey Bay Aquarium?
Right now See Monterey is hosting an amazing giveaway to give your family a chance to have some fun in Monterey!
Visit See Monterey through June 9th for a chance to win 4 tickets to the Monterey Bay Aquarium and Monterey County Youth Museum for your family! 
Have you visited Monterey County? What are your favorite places to visit? What would you like to do in Monterey with your family?
I would love to hear from you in the comments below!