This post is sponsored by Honeybear Brands. All content and opinions are my own.
Sweets are my absolute weakness. So I love when I can figure out a lighter and more healthy take on my favorites like this Healthier Apple Crisp.
Apple crisps are one of my favorite sweet treats. A warm comfort food that reminds me of something my grandma would make for me.
They are great to make for special occasions, winter baking, and just because!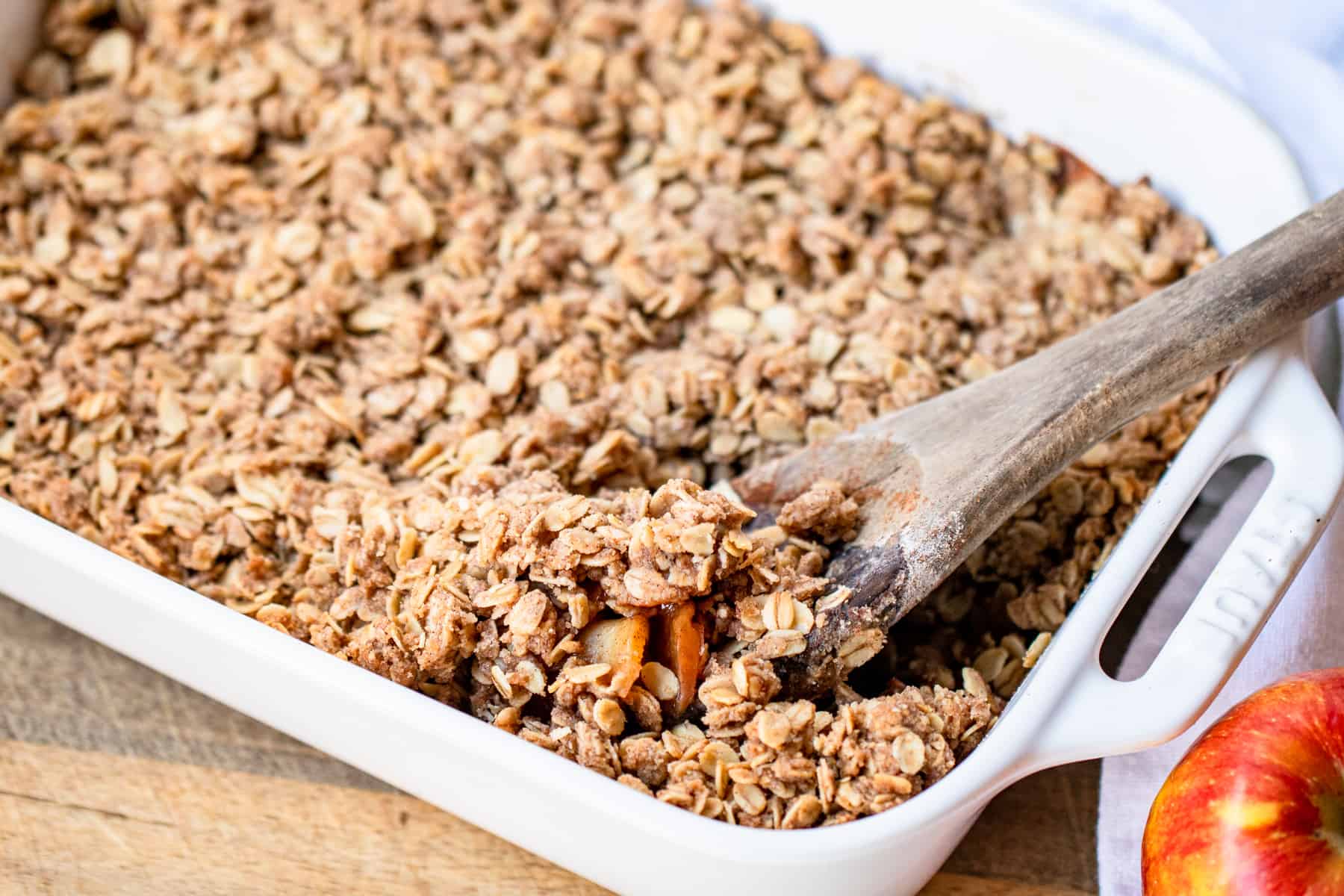 What kind of apples are best to use for apple crisps?
A nice crisp apple works best for apple crisps. Pazazz apples are my favorite because they are so high quality with a great flavor that doesn't fade right away and crunch!
Pazazz apples are actually a descendant of Honeycrisp, but they have a unique taste of their own and just the right crunch for recipes like apple crisps. No wonder it's called the Jolly Rancher of apples!
These apples are available at your local Vons or Safeway store late fall through summer. So, you'll have them for any spring or summer baking or treats you want to make.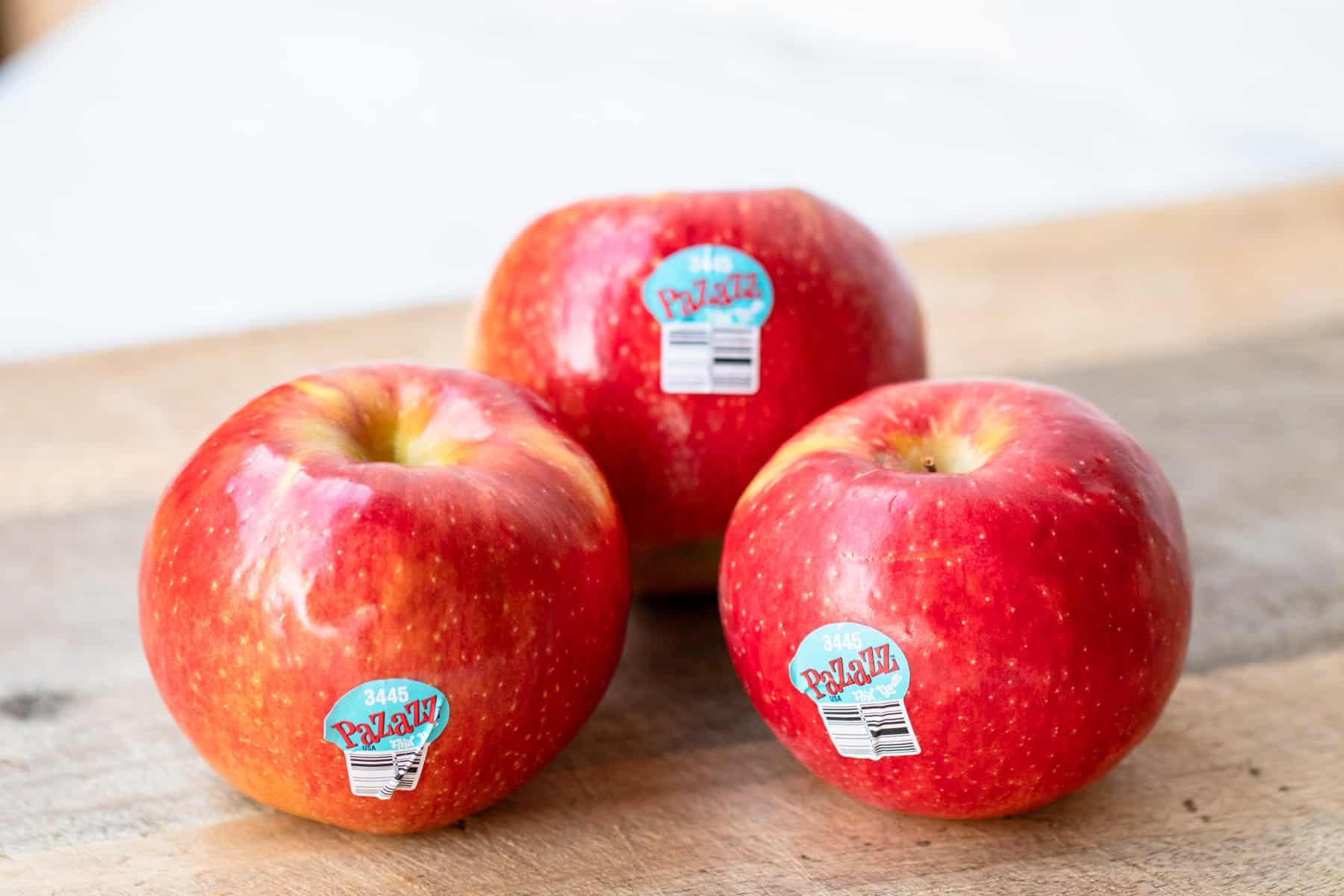 Cancer Cruncher Challenge
Join American Institute for Cancer Research (AICR) and Pazazz apples as they team up to fight cancer.
February is National Cancer Month! Help fight cancer by participating in the Cancer Cruncher Challenge.
Eat a cancer protective diet of superfoods like Pazazz apples, upload your photo to the Pazazz superhero filter found at https://api.shareity.com/frontend/web/player?type=challenge&id=314
and Pazazz will donate $1 to The American Institute for Cancer Research to further the fight against this disease.
Launch the Cancer Cruncher Challenge !
It's so easy! Check out mine below.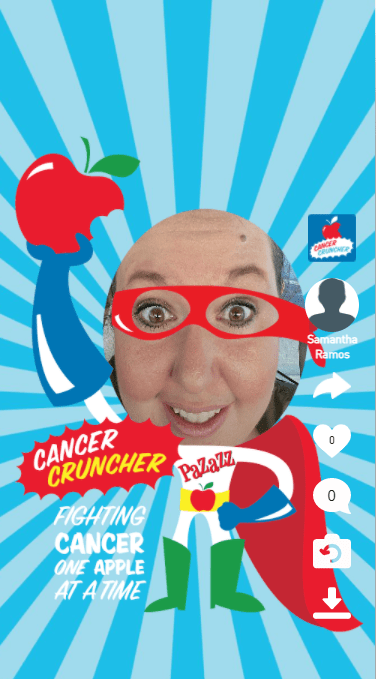 Are apples healthy?
Yes! It's amazing the many health benefits apples have including anti-cancer benefits.
Anti-Cancer– Apples are rich in fiber, which has great antioxidant and anti-inflammatory effects that can help lower the risk of cancer. Prebiotics necessary for probiotics are also found in apple peels. These help with gut health!
Protects your brain
May aid in weight loss
Promotes bone health
Linked to lower risk of diabetes
Provides good gut bacteria
Good for your heart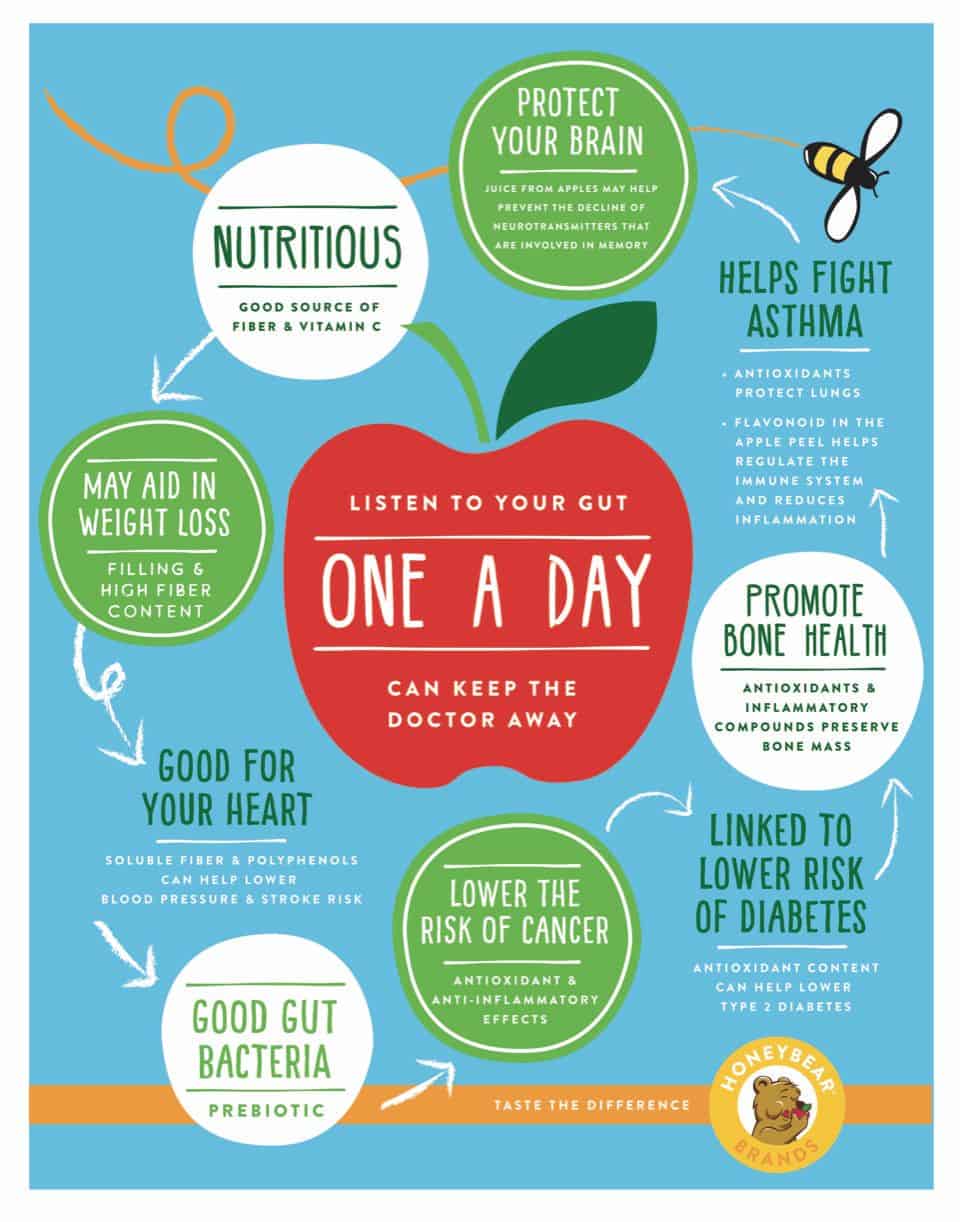 How can I make a my apple crisp more healthy?
It's so easy to make your apple crisp more healthy by leaving and substituting a few common ingredients.
This recipe substitutes a small amount of brown sugar and pure maple syrup in place of sugar and uses coconut oil instead of butter. Topping with light whipped topping is also a great substitute for ice cream.
We used whole wheat flour, but you could also use almond flour or another healthy flour substitute.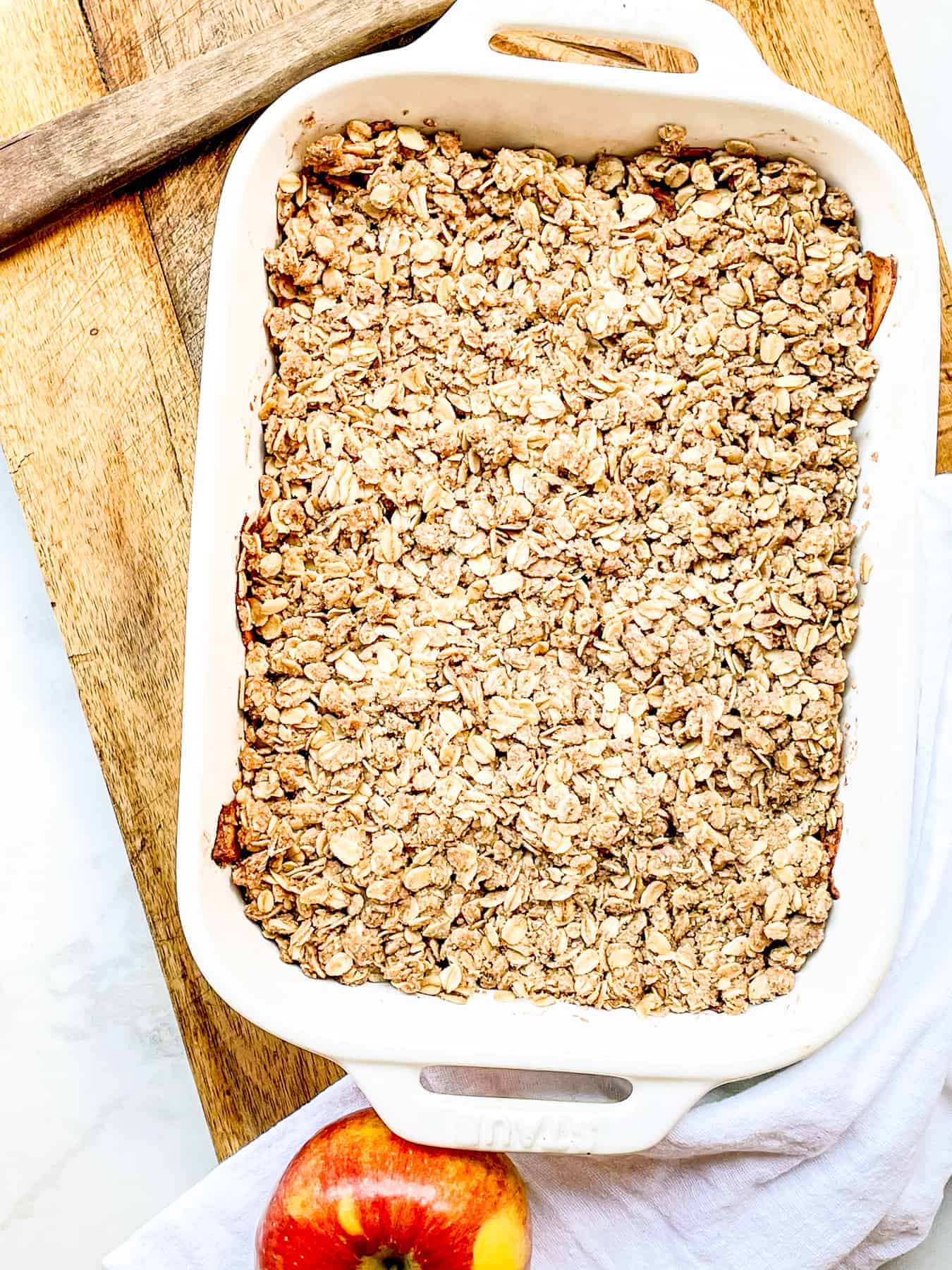 When it's all baked, crispy, and ready to eat this Healthier Apple Crisp recipe is delicious! You really can't tell it doesn't have butter or sugar.
… and it was approved by all 3 of my kids and husband who helped me enjoy it!
The sweetness of the Pazazz apples really makes the whole thing come together for a yummy dessert that will satisfy your sweet tooth.
Ingredients:
For Filling
4-5 large apples (peeled, cored, and thinly sliced)
1 tbs. pure maple syrup
2 tsp. cinnamon
2 tsp. vanilla extract
1 tbs. cornstarch
For Crisp Topping
1 cup whole oats
1/4 cup light brown sugar
1/4 cup whole wheat flour
1/4 cup chopped walnuts
1 tsp cinnamon
2 tbs. coconut oil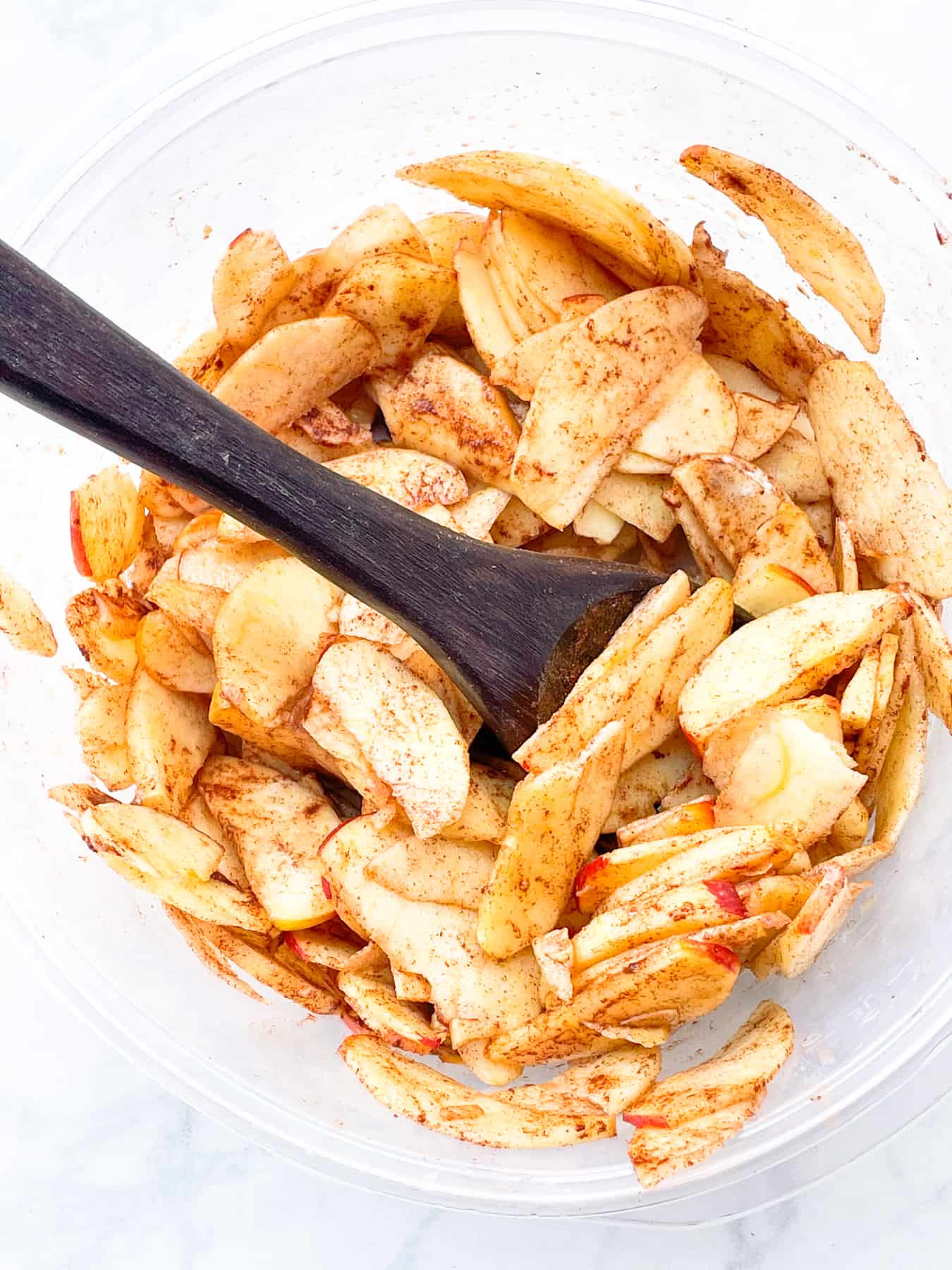 Instructions:
Grease a medium size casserole dish and preheat oven to 350 degrees.
I a large bowl mix together apples, maple syrup, cinnamon, vanilla extract, and cornstarch until apples are evenly coated.
Spoon apple mixture in the bottom of your casserole dish.
In a medium bowl mix oats, brown sugar, chopped walnuts flour, cinnamon, and coconut oil.
Place oatmeal mixture evenly over apple mixture in the casserole dish.
Bake at 350 degrees for 40-45 minutes.
Top with light whipped topping.