How do you react when your sweet innocent child says a bad word for the first time?
If you're like me and don't curse, then your child saying a bad word will probably come as a shock to you.
This is something that can and probably will happen to all parents on this journey of raising kids to be respectful adults. Once the naughty word has been spoken you can't turn back time, you have to deal with it.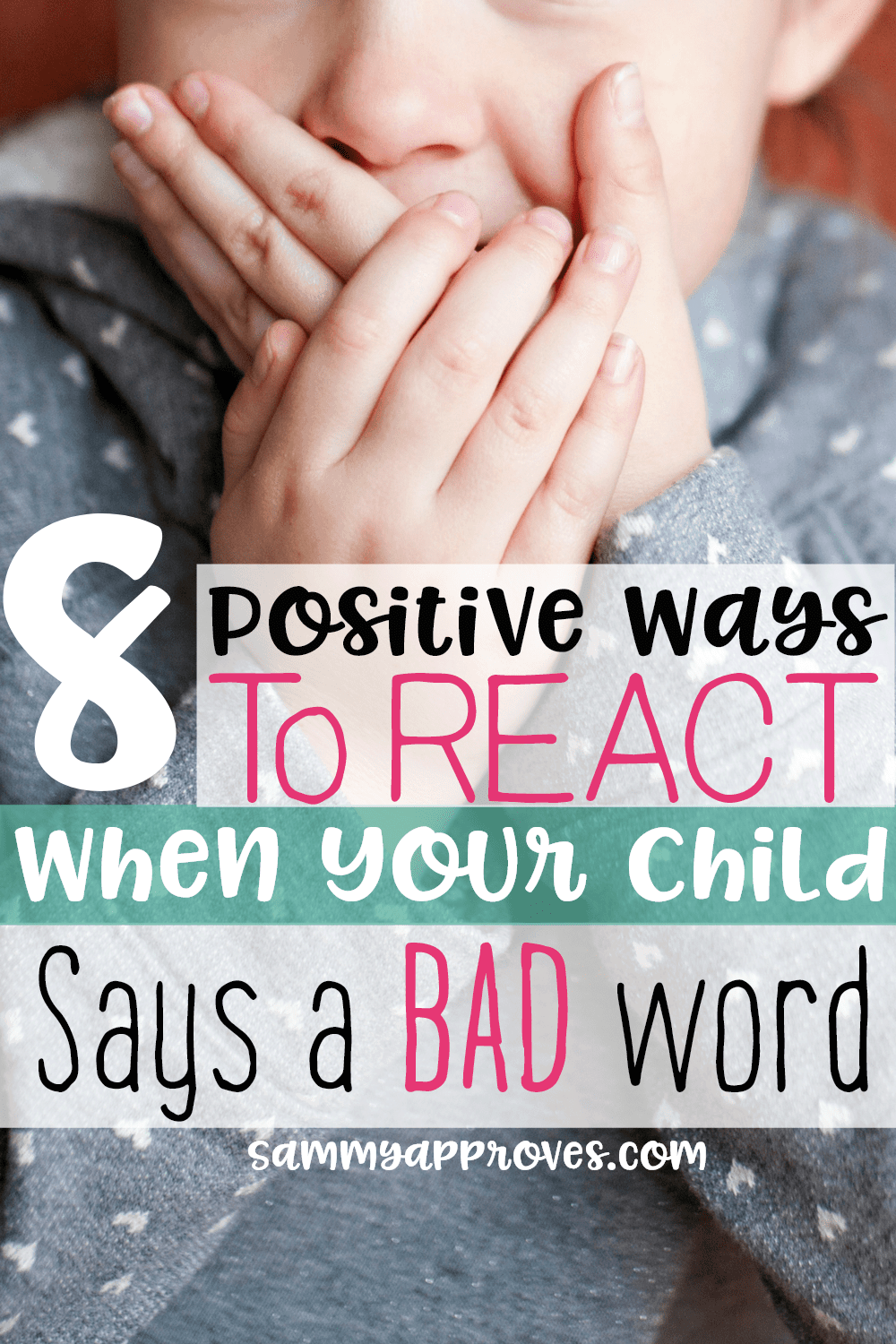 I'm sure you don't want your little ones newly learned curse word to become part of their daily vocabulary. It probably wouldn't go over very well if they repeated this word to their teachers, grandparents, neighbors, or at church.
Luckily, this isn't a bridge I've had to cross as a parent yet. However, it's something I've been thinking about because as a parent I like to be prepared for dealing with situations.
When or if this does happen I want to react in a positive way. In a way that not only teaches them to change the behavior, but to see a good example of how to react under stress.
8 Positive Ways to React When Your Child Says a Bad Word
First, just stay calm

Your gut instinct may be to get angry, emotional, or panicky. But, stay calm! Just because your little one cursed doesn't mean it's your fault. They could have heard this word at school, while traveling, or on TV.

Calmly ask your child where they heard the word

Ask your child where they heard it, so you can further assess how to handle the situation. If you approach the situation calmly and at their level they will be more open to having conversation with you about it.

Have a family discussion

Talk with your little one about why you don't want them using that word. You should explain to them that sometimes people use bad language, but that it's against your rules. I would definitely tailor this conversation to your families needs and rules about cursing. The main point is that your child hears from you what is expected and why saying that word isn't okay.

You may want to suggest other words to say instead

If it continues to be a problem you may want to calmly redirect and teach them things that are okay to say. Words like dang it or darn, maybe you make up a silly word they can use. Again this should fit what your expectations are for your child.


Give praise and positive reinforcement

Make sure you let your child know when they are saying the correct words to show their frustration or hurt. Give lots of positive reinforcement and praise, so they will continue using the appropriate words.

Show lots of love

Your child may feel really bad and remorseful that they said a bad word. Make sure you show lots of love after your discussion and let them know it was just a mistake. Chances are they didn't even know it was a bad word after all.

Assess your environment

What if your child heard the curse word at home? In this case make sure to assess your home environment. First make sure that you as parents are always modeling the type of language you want to be spoken. Make sure older siblings clearly know the rules when it comes to cursing. Also, look to see if the type of television programming you are watching has bad language your child may overhear. These days even commercials can contain bad language, so you have to be extra careful!

Make sure rules are clearly posted

Clearly post the rules on a dry erase board or paper where your little ones can see them. Go over these rules with your children often so they clearly know what is expected of them.