Butterfly & caterpillar picture books are fun to read in the spring and any time of year really.
Your toddler, preschooler, or kindergartner will love these butterfly read alouds perfect for a themed story time, homeschooling lesson, or just because.
You might also like these picture book lists:
Kids Cat Books
Kids Elephant Books
Toddler Board Books
Kids Fox Books
Kids Rain Books
Kids Mermaid Books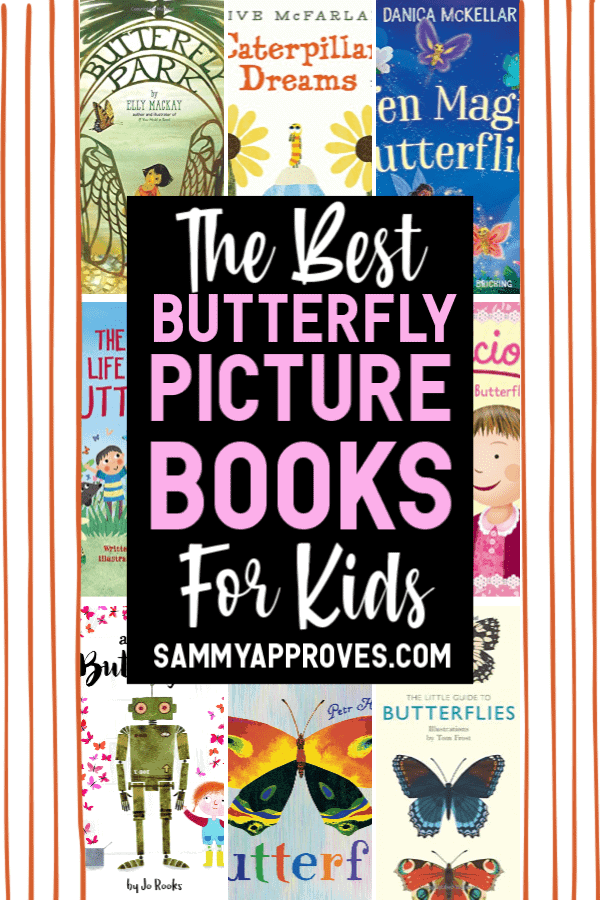 The Best Butterfly and Caterpillar Picture Books for Kids
New Butterfly Kids Books 2019-2020
Photo Credit: www.bookdepository.com
All Henri the Caterpillar has is a dream. It's an amazing, incredible, impossible dream.  And to chase it, Henri will have to leave the safety of his garden and embark on the adventure of a lifetime.
Photo Credit: www.bookdepository.com
Fairies, butterflies, and magic help to make this math-focused board book positively enchanting! 
The DC Super Hero Girls go on an out-of-this-world adventure in this action-packed book for young readers!
Bugs, of all kinds, were considered to be "born of mud" and to be "beasts of the devil."  Why would anyone, let alone a girl, want to study and observe them?
From moth to chrysalis to beautiful butterfly, learn about a butterfly's life. 
More Cute Butterfly & Caterpillar Children's Books
Kids will love to see the magic of metamorphosis with Victoria Kann's Pinkalicious and the Little Butterfly, an 8x8 illustrated storybook.
One day, as Elmer is strolling through the jungle, he hears a cry for help. A butterfly has been trapped in a hole by a fallen branch. Elmer rushes to the rescue and frees her with ease.
Little ones will hover over this colorful look at insect critters as they peek through die-cuts and enjoy a final pop-up surprise.
Told in conversational verse between father and daughter, Butterfly Kisses celebrates the shared love, trust, and hope that create a unique bond between father and daughter. This Little Golden Book is a must-have for every daughter's bookshelf.
The engaging Explore My World picture books invite kids to take their first big steps toward understanding the world around them and are just the thing for parents and kids to curl up with and read aloud.
Follow the transformation from a tiny white egg laid on a leaf to a brilliantly colored butterfly in this kid-friendly introduction to metamorphosis.  With detailed, bright watercolors, Gail Gibbons illustrates the life cycle of the monarch butterfly, stage by stage, as it grows, changes, and takes flight.