For as long as I can remember my son has always asked "Mom, will you read with me?" every night before he falls asleep.
This is something that I've always loved doing. But, after 7 years of him being the only child I have to admit it's gotten more challenging.
It pains me to say that sometimes, now, when he asks me to read I feel tired and worn out from a long day of taking care of a toddler, a 9 year old, working, and keeping up with mommy duties.
Now that I'm pregnant bedtime is a time I just want to snuggle up in some warm blankets and drift of to sleep.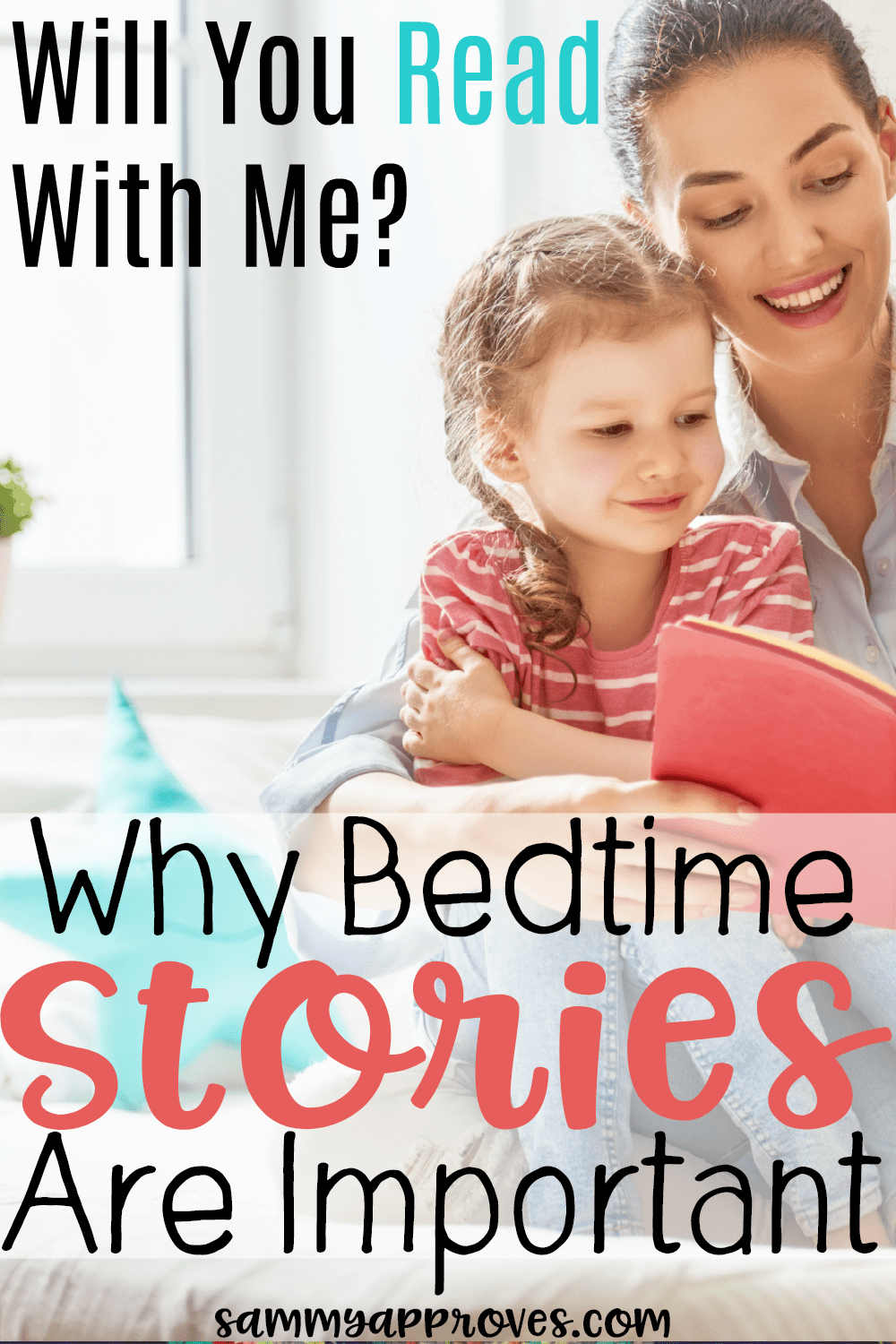 Will You Read With Me? Why Bedtime Stories Are Important
Even through these feelings I make it a point to read to my son every night when he asks.
Yes, I am one tired mom and yes, I deserve that sleep. But, my son doesn't understand all the challenges of motherhood and bedtime stories are important.
Once I push through that tiredness, lay beside him, and begin to read it's all worth it because:
One-on-One Bonding Time
Story time is a time for one-on-one bonding. A time where you and your child can bond over reading!
What a wonderful thing to bond over?
You might find yourselves laughing, learning, or living in suspense while you read together.
Your little one has the opportunity to share their favorite books and characters with you and you can share your childhood favorites with them.
There might even be a favorite book you find together.
Then there are the times after reading for 20 minutes you turn to find your son or daughter snuggled up to you sleeping peacefully as they fell asleep to the sound of your voice.
Reading creates such precious times for bonding!
During Story Time Your Kids Learn (A Lot!!)
Whether your kids know it or not they are learning while you read together.
They may be learning to read watching the words and letters as you read to them.
As they ask questions while you read they are learning new vocabulary and things about the world and different characters who are living different lives.
Some stories will teach them lessons like how to be respectful, kind, and giving. Little ones will probably be learning about colors, numbers, and things while you read.
Whenever my older son and I read aloud together I know he is learning about speaking aloud. When to pause and when to use a stronger or softer voice as the characters are speaking.
These are valuable life lessons as he might be asked to give a speech later in life that requires expressive use of language.
Imaginations Grow Through Reading
Reading a wide variety of books with your kids helps them grow their imaginations.
Books take them to different worlds and introduce them to different characters. Kids can escape on an adventure, mystery, or suspenseful tale that lets their imaginations grow.
Creativity is a big part of reading too! When children read the growth in their imaginations allows them to be more creative.
My kids often draw pictures of things we read in stories or recreate the stories with their toys. It's really amazing to see this growth in imagination from books come to life in your kids.
You are Taking Advantage of Every Minute
Our kids grow and they grow fast. Being engaged in bedtime stories helps us as parents take advantage of the precious time when our kids are still kids.
There is something different to enjoy at each stage from board books, picture books, and then chapter books.
Watching your child grow between different types of books, genres, and favorite characters is something amazing to see during bedtime stories.
Bedtime stories are so important for all these reasons and more.
Choose a time that works best for your family to have story time. If you have multiple children, read to some at one time and some at another, split up different kids on different days, or split story time with your spouse.
With little ones it's fun to have themed story times. We've read about all kinds of things from frogs, butterflies, and cats during story time!
Do you have a daily story time? What makes story time important for your kids? I would love to hear your thoughts in the comments below!
More Posts You Might Like: