I love setting goals for myself, long term and short term. It helps me to accomplish the things I set out to do and gives me a sense of purpose, which is especially important since I am a stay at home mom, a job that can get a bit isolating.
A great thing about goals is that they can be set year round. Goals don't have to be complicated, in fact making simple goals makes it more likely that you will achieve them. One of the things I love best is setting goals with my family, things that we all need to work on or want to achieve.  
Family goals are even more powerful because you are holding each other accountable and working together to achieve the goals you set.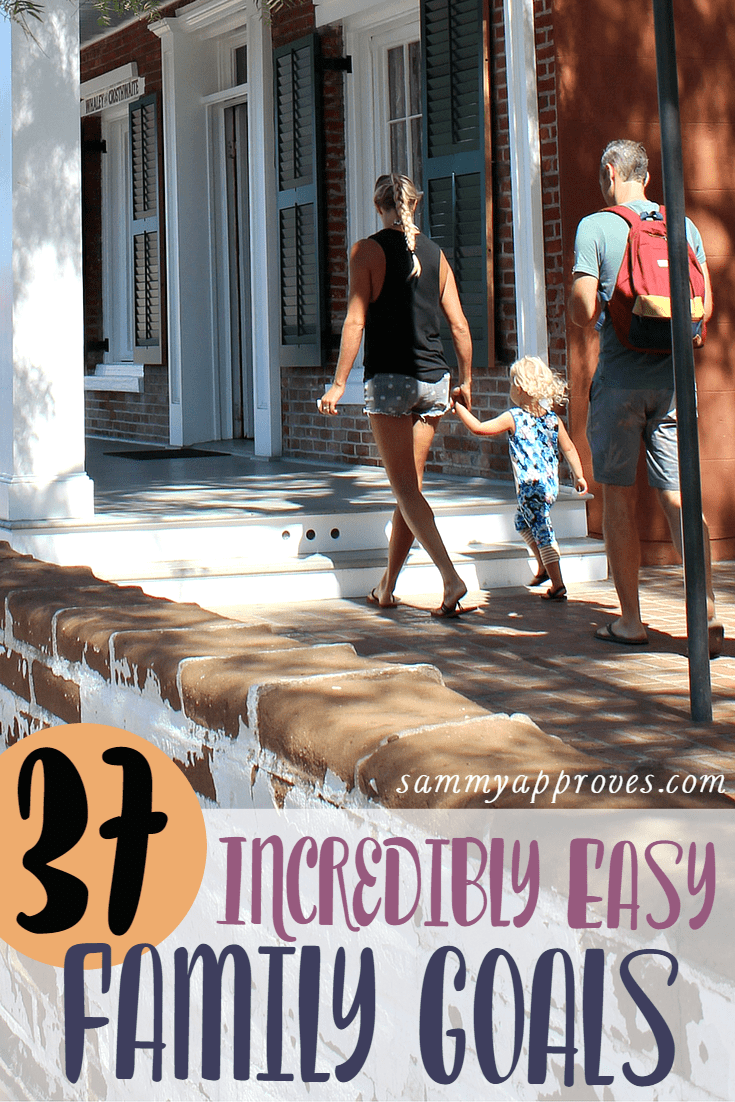 37 Incredibly Easy Family Goals
I'm always telling my husband about goals I want us to work on as a family. Right now one of the goals we want to start is saving for a Disney Cruise. This is something we could work on as a family, deciding together to not do fun family outings and instead putting that money aside for our trip.
Working through this goal together is a great way for us to bond as a family and teach our kids valuable lessons about saving for something they want.
Daily Goals
1. Wake Up Earlier
2. Be On Time
3. Get Outside
4. Pack Healthy Lunches
5.Pray/Meditate
6. Eat Dinner Together
7. Eat Breakfast Together
8. Carpool
11. Nightly StoryTime (Young Kids)
12. Set A Time To Unplug
Weekly Goals
13. Family Game Night
14. Weekly Family Dinner Plan
15. Weekly Family Walk/Hike
16. Stick to Weekly Chore Plan
18. Use Reusable Shopping Bags
19. Cook Homemade Dinners Together
20. Family Yardwork
21. Assign Family Jobs Weekly 
Monthly Goals
23. Keep Monthly Family Calendar
24. Monthly Family Meeting
25. Volunteer Together
26. Set a Monthly Budget For Family Fun
27. Try a New Family Recipe Each Month
28. Save for a Family Outing (Dinner, Movie, Bowling, Mini Golf)




Yearly
29. Plan a Vacation as a Family
30. Go on a Family Road Trip
31. Annual Family Olympics
32. Start a New Tradition
33. Donate Old Toys/Clothes
34. Make a Family Goal List
35. Discuss Individual Goals
36. Learn a New Skill as a Family
37. Plan and Host a Family Reunion
To help you get started on your family planning I've made a printable list for you to keep handy. Download your list of 37 Easy Family Goals.
Subscribe for a bonus printable Family Goals Worksheet!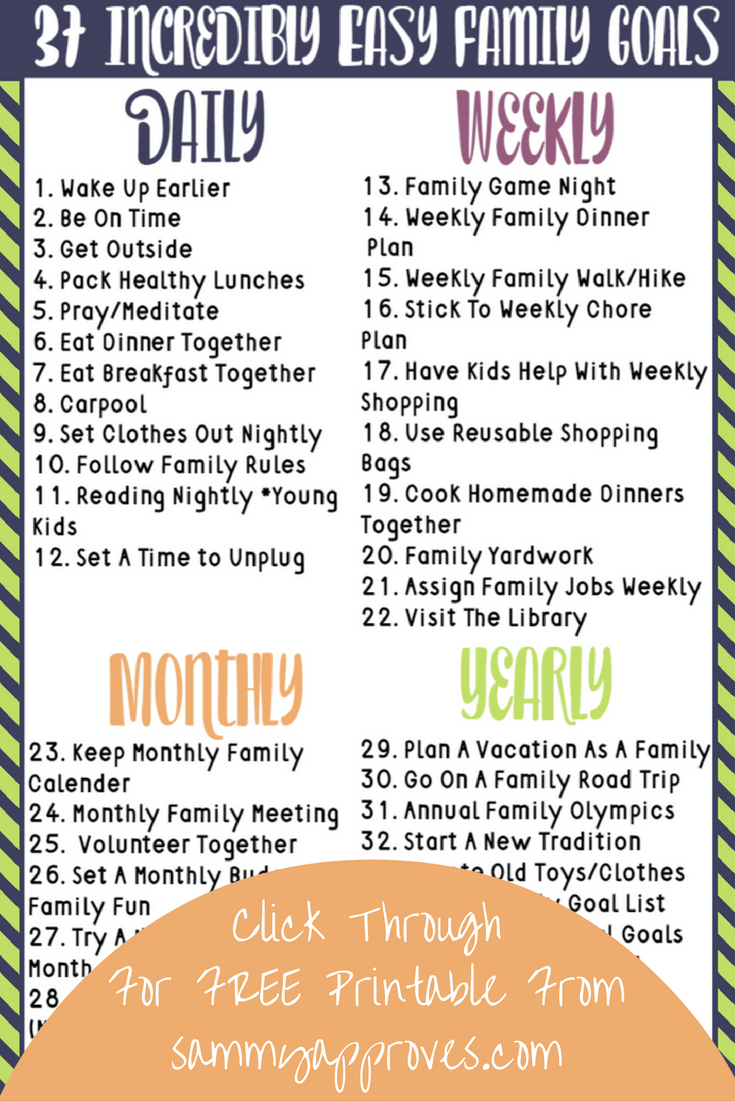 Have you set any family goals this year? What goals are you working on as a family? Are there any family goals you want to set? I would love to hear from you in the comments below!