Is this scene familiar to you? Piled up laundry that no matter how hard you try never seems to get lower,  piled up dishes in the sink that you have the same issue with, and scattered toys sprawled across the house.
Well, it's my reality most days and I'm not going to lie, when my home is cluttered it makes me feel like a failure. I've been feeling pretty down on myself lately because of the clutter. Like a failure as a parent, as a wife, a failure to myself.
I really wanted to talk about this failure because I know its something that a lot of parents feel guilt about. Something that we agonize over day after day.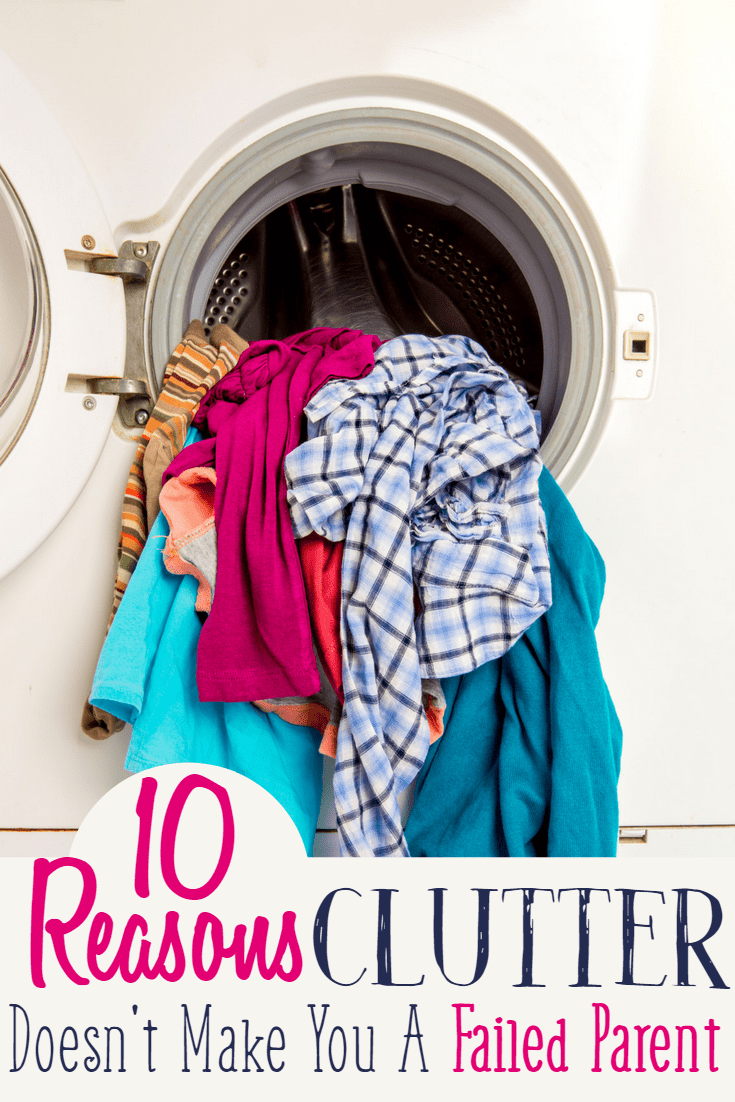 This guilt, for me, doesn't come from criticism or a comment anyone has made. Rather from my own expectations I set upon myself of the Pinterest perfect home I am supposed to be living in.
I've been thinking on this a lot lately and keep coming back to the same conclusion. There is no reason I should feel guilty about all the clutter and plenty of reasons to let the guilt go.
Is it nice having a clean house? Of course! Can I get my home sparkling clean and clutter free? I know I can!
But, right now as a full time work at home mom of a toddler bouncing off the walls and a son who needs lots of homework help, it's totally normal for my laundry and dishes to get backed up.
For those of you feeling that guilt wash over you of a messy home, I wanted to share these reasons why you need to let it go and be happy!
10 Reasons Clutter Doesn't Make You a Failed Parent
Basic Needs are Being Met– Chances are a few more dishes in the sink and a stacked up laundry pile isn't hindering you from meeting the basic needs of your child. My children are fed, clothed, protected, and taken to school on time each day. They have a structured daily routine and are thriving.
Less Nagging– I often wonder how I would keep my home spotless without constantly nagging and getting frustrated with my kids. There is no way I could keep up with it every day on my own. I'm sure there is some secret formula that I am not getting, but I am happy that not being so strict on a perfectly tidy home means my children hear less nagging from me.
More Kid Time– I'm not sure about you, but we are swimming in homework. My son comes home with 12-14 pages of homework per week and he's in the 2nd grade. Time for being a kid is already limited. I'm happy to cut back on chores if it means my children have even more time to play and be kids.
Happiness– Kids don't care about having a spotless home. They want to play, laugh, and be loved. Our home is constantly full of laughter. When the kids are happy, playing, and laughing there really is no reason to feel guilt that you didn't get to folding all the clothes that day.
No One Cares– Unless you are throwing a dinner party, no one probably cares that there is a little more clutter in your home. This is your safe space and you can only do what works for you in the moment. There is no need for me to get so down in the dumps about something that only myself is seeing.
That Lived In Feeling– Our home is messy sometimes, but it's because my family is living in it. My kids are playing with their toys and running around the house. We eat our meals at home and I try to cook them from scratch most of the time. More dishes in the sink and toys scattered around is a direct result of us living our beautifully wonderful lives.
Prioritizing– Yes, it's a little inconvenient to dig through my laundry pile when I don't get the clothes folded and put away. But, I am always working, whether that's playing with my kids or working on my blog (a full-time job). Sometimes the time with my kids and family takes priority over laundry folded and that's okay.
More Rest– More time to rest means a happier, healthier momma. I could very well wake up at 4am every morning to get a head start on cleaning. But, usually after 1am wake up calls from my toddler I am exhausted. Any extra sleep for me means more energy to put into my kids.
Valuable Lessons– Think of the valuable lesson that not having everything perfectly clean teaches our kids that we don't always have to be perfect. I'm not a perfectionist and I really don't want my kids suffering anxiety over things that don't really matter. In the realm of world problems it really doesn't matter that all the dishes from the night before haven't been done.
Self Worth– Take a moment and think about all the things you HAVE done today. Maybe you didn't get to your chores, but I'm sure there are a lot of other mini accomplishments to take note of. For me those accomplishments might be changing diapers, giving the dogs & kids a bath, posting a blog post, packing homemade lunches for my son and husband, dancing with my toddler. These all deserve a big pat on the back.
Truth is, we work so hard as parents. It's easy to take something as simple as chores and blow it up into a huge cloud of anxiety, stress, and a feeling of failure. But, we need to stop and take a look at the good going on in our lives.
The happiness of our kids, spouse, and ourselves is more important than a clean home. There will always be another day to get your home all sparkly. Let's take today to think of our victories as parents and the positive.
I'm giving you permission to put that laundry/dish pile out of your mind to focus on yourself, your family, and the things most important. 
How about you? Do you feel guilty when your house is cluttered? How do you get rid of that feeling of failure? I would love to hear from you in the comments below!