This post may contain affiliate links. Read my full disclosure for more information. As an Amazon Associate I earn from qualifying purchases.
Family Traditions create happiness, memories, and help build a family bond that will last a lifetime.
There is a reason we treasure the family traditions we had as a child. We want to pass them down to our children and to create new traditions that are unique and they can pass down to their kids.
…because family is important, traditions are important.
You Might Also Like These:
Easy Family Goals
Smart Goals for Kids
Healthy Habits for Kids
Family Bonding Activities
Screen Free Toddler Activities
Educational Kids Activities
At Home Kids Activities
Why is it important to have family traditions?
It is important to have family traditions because they give us a sense of belonging. Both children and parents benefit from the family bonding that occurs while having traditions together.
Traditions give us something to look forward to all year. They also leave us with beautiful memories to cherish throughout our lives.
Our kids benefit from traditions as they bond with their parents and siblings. Kids love consistency in their lives and traditions are consistent, making them feel safe and secure in their family.
Helen M Farrell M.D. states in her article on Psychology Today that embracing family customs or personal rituals can be a powerful grounding force.
…and it's true. Traditions can keep your kids feeling grounded to their family into adulthood.
As a family we participate in traditions together, as well as with our extended family. *Staying up until midnight on Christmas Eve at grandma's house is a favorite of my kids that my husband remembers doing as a child.
How do you build a family tradition?
Building a family tradition can be as easy or complicating as you make it. Most traditions are simple and don't take a lot of effort to build with your kids.
The key with building long lasting traditions is to stick with them each year. Make your traditions consistent and let your kids help make them their own.
Sometimes our kids will have ideas to make my childhood traditions more fun. This makes it more fun for them and turns it into their own tradition they will want to continue.
Family Tradition Ideas Your Kids Will Love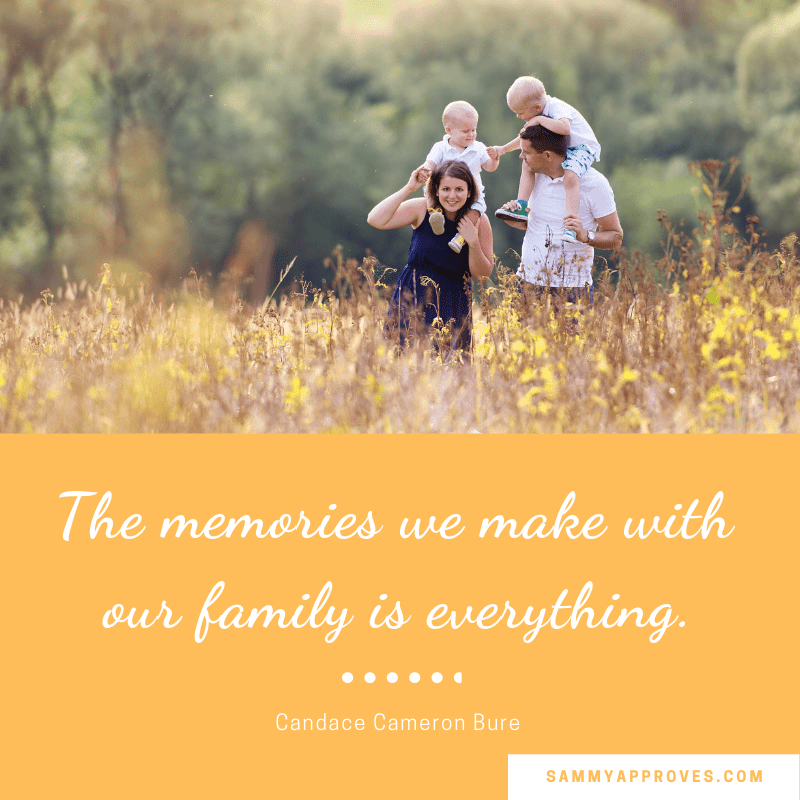 Here are some fun family traditions to start this year with your family.
Travel Family Traditions
Trading Pins at Disneyland – Have you ever traded pins at Disney? If not it's super fun, the Disney cast members even get in on it. Grab a lanyard for each family member and make it a tradition to trade pins on your next Disney Trip.
Road Games in the Car – We like to make up our own road games to play with the kids on long drives. It's become a tradition. Their favorites include Name Every Pokemon Character and Name Every Disney Movie. When you can't think of one you're out and the last person standing wins!
Visiting the Snow or the Coast – If you don't live near the snow or the coast make it a tradition to visit one or the other each year. Our kids never see the snow, so it's fun to take them up to the snow during the holidays.
Picking Matching Vacation Clothes – Make it a tradition to get touristy with your family on vacations. Pick out matching clothes while you're there or have matching shirts made before you go.
Road Trip Stops– Do you like taking road trips near your home town? Make it a tradition to take special stops on regular road trips. There is a fun gas station with lots of special trips that we like to stop at on the way to San Francisco. It's become a family tradition that we all love.
Travel Traditions– Just like road trip stops you can make family traditions for places you travel frequently. Some of ours include eating clam chowder at Disneyland, visiting Old Town in San Diego, and taking a family photo next to destination signs.
Holiday Family Traditions
Annual Family Photos– Take advantage of the holiday season to have a family portrait made. We like to do a fall one each year for Halloween and one for Christmas.
Donating to Charity– Fill up a box with your family to donate to the homeless shelter. Make a tradition to all pitch in and donate old toys and clothes for the holidays.
Creating Family Goals– At the start of each New Year sit down as a family to plan family goals together.
Annual Christmas Card – Turn your Christmas card into a special holiday tradition. Take your family out to take a themed photo each year around the same time and get your kids involved in making and sending the cards.
Special Holiday Recipe– Pull out an old family recipe you remember as a child or make a new favorite recipe during the holidays. Make it a tradition with your kids by making it together each year. I remember making Russian Tea Cakes every year with my grandma.
Apple Picking – Check to see if there is an apple orchard near you. It's such a fun tradition to pick apples with the kids every fall. We have a local farm that has family fruit picking year round.
Pumpkin Patch – Just like apple picking pumpkin patches are another fall tradition that's so fun with kids. Pumpkin Patches are also the perfect place to get fall photos of the kids.
Christmas Present – Make it a tradition to give a Christmas present or presents to a family in need each year. You can donate to a family at church, the homeless shelter, or give to someone you know in need.
Christmas Ornaments – Take your family to pick out Christmas ornaments each year for the holidays. Christmas ornaments can be expensive so we have a tradition where each family member gets to pick one special ornament for the tree each year. Pretty soon you have a really neat collection of ornaments. It makes it special to pass them on to the kids when they get older.
Best Family Traditions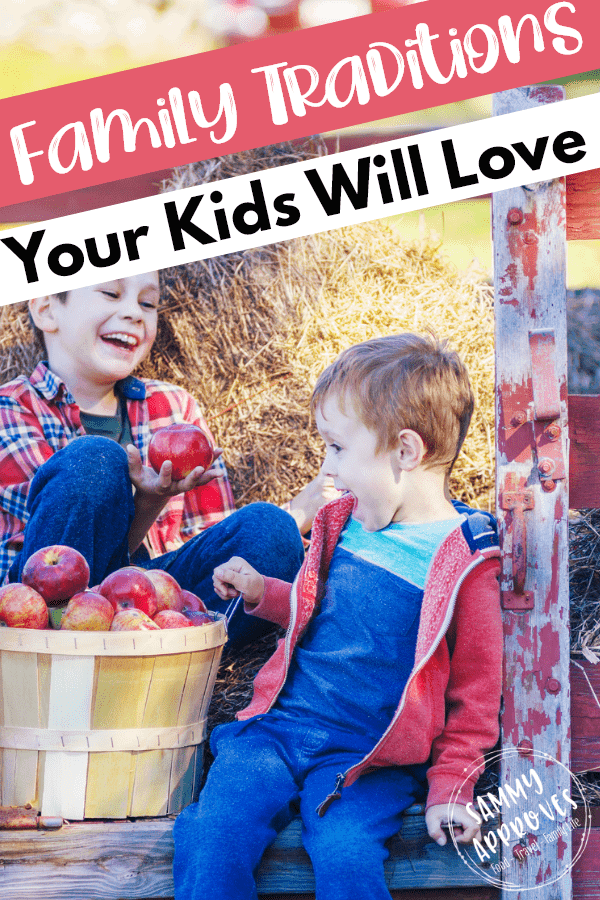 Bedtime Stories – Bedtime stories are great, but story time traditions are even more special. Pick special story books to read as a tradition for when your kids are scared, sick, first day at school, or for the holidays. They will remember these special books and want to read them to their kids, continuing the tradition.
Family Game Nights – Start a family game night tradition for special occasions like holidays or you could have a monthly/weekly family game night. Make the tradition more fun by including a special snack.
Special Restaurant– We like trying new restaurants, but we do have those that we frequent as a tradition. Take your kids to your family favorite restaurant for special occasions and make a tradition out of it.
Local Events – Make a it a family tradition to attend an annual local event. There are several events in our area that we look forward to attending all year.
Live Concert or Show– Get interested in a play or musician together as a family. Make it a tradition to see that show or musician every time they are touring the area.
Letters to Loved Ones – Do you have loved ones that live far away? Make a tradition with your kids to write them letters once a year. It's a great way to keep in touch and bond with your kids in the process.
Family Newsletter – Create a monthly newsletter for your family. This is a tradition that even extended family can participate in and look forward to.
Volunteer Project – It's so easy to volunteer with the family any time of the year. During the holidays you can volunteer serving holiday meals or giving toys to needy families. Throughout the year you can donate at local non-profit organizations, hospitals, nursing homes, or just pick up trash around the community.
Family Collection – Start a collection with your family. Make it a tradition to look for items to go in your collection while you shop or when you travel.
Age Related Traditions – Make it a tradition to do things in order of age. For example, the youngest always takes the first turn at playing a board game, puts the star on top of the Christmas tree, opens up presents first.
Group Birthday Parties– Turn birthdays into a tradition by having a big party for everyone with birthdays closer together. This is great for big families!
Time-Lapse Photos – Make it a tradition to take a photo of your kids every day or every month. Then, track their growth with a time lapse photo video.
Special Movies – Have a favorite family movie? Make it a tradition to watch it during certain occasions. For example, we watch Home Alone every Christmas as a family!
Family Sing Along – Get out your guitars, instruments, or just your best singing voices and sing karaoke or your favorite seasonal songs together as a family. Make this a tradition for special occasions!
---
Family traditions are so easy to start. You might even already be doing something you can turn into a regular tradition. Just think of some fun things you've done as a family recently that you can do every year!
What are some of your favorite family traditions? Are there any traditions you would like to start this year? I would love to hear form you in the comments!