This post was sponsored Tai Pei, all opinions expressed in my post are my own.
I always remember the holidays being such a magical time.
Do you have those magical childhood memories too?
Lately I've been thinking a lot about this. My kids are at the age where the holidays are really magical to them.
But, the holidays have been really stressful for me this year.
I've had a challenging pregnancy that has been hard on my health, which makes it difficult to get everything I want to get done for the holidays.
Even though it's stressful for me I want to make sure my kids are still feeling the magic of the holidays.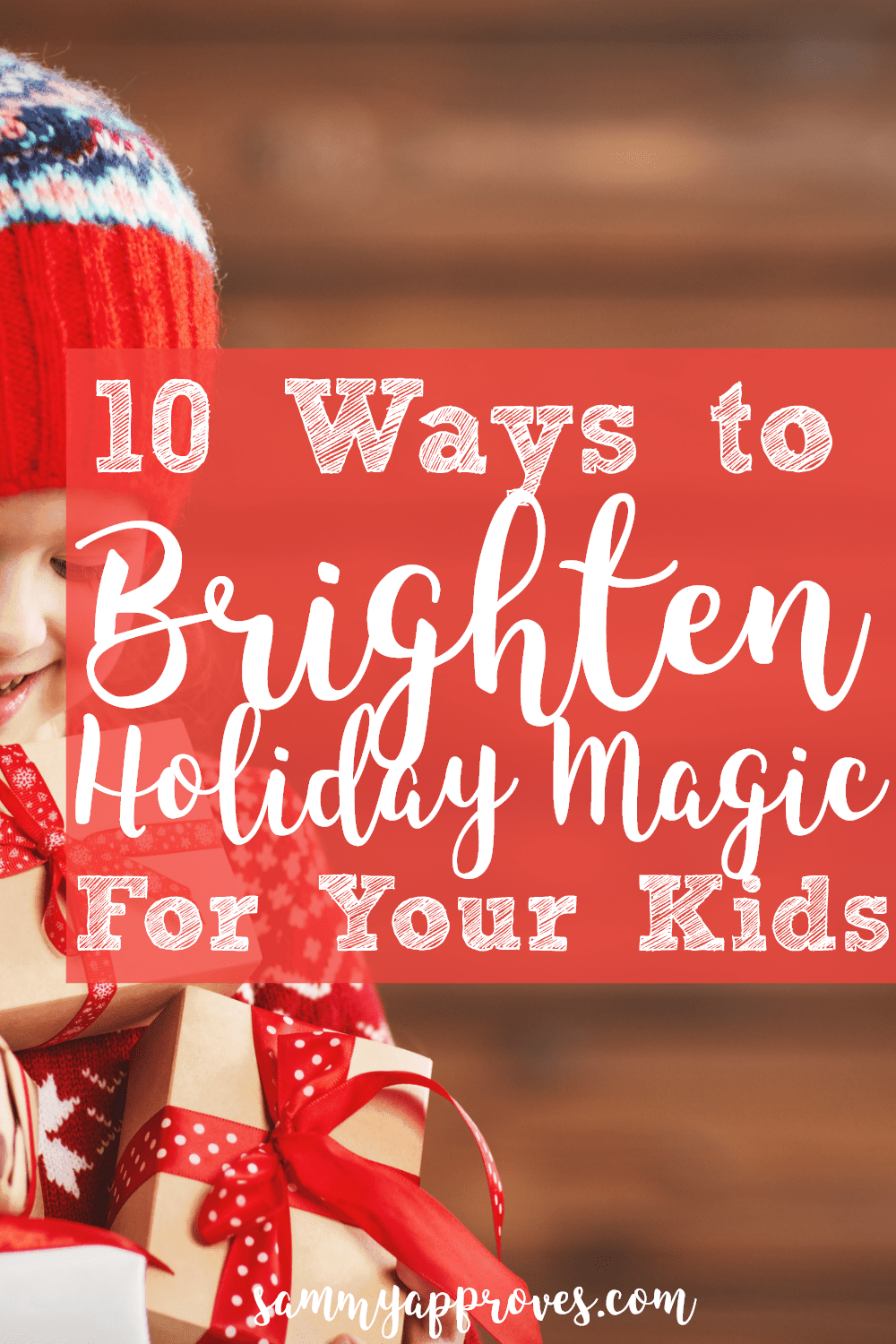 10 Ways to Brighten Holiday Magic For Your Kids
While thinking about the magic of Christmas during my childhood I couldn't help but think if my mood during the holidays set the tone for my kids.
I'm sure that the way we feel during the holidays effects how magical it is for our kids. They really seem to pick up on those things.
This brings me to my first tip for making Christmas magical for our kids.
Manage Your Stress 

I'm sure during the holiday season you have a ton of things to do, which can add on stress for any parent. Make sure you are taking care of yourself. Cut things out of your schedule, make meals easier, and take a time out for yourself to get some rest and relaxation.As I mentioned in one of my last posts I've really been loving Tai Pei Asian Entrees because it's something that saves me time for lunch as I work from home. Doing this simple things to make my lunch time easier lowers my stress and makes the holidays more enjoyable for my kids because I have more energy and time in my day. 

Even during the holiday season I still have lots of work to do amidst caring for the kids and holiday events. So, I love that I can just pop in some chicken fried rice in the microwave and have it in a few minutes. All of their products are an easy size to store and cook, have no artificial flavorings or preservatives, and taste so fresh!

My son was so excited he got to try it too the other day. Do you ever find yourself always having to share lunch with your kiddos?

Grab a coupon for yummy Fried Rice and find out where to find Tai Pei Asian Food near you! 

Let Them Help

Do your kids love helping? Mine love to be like little grown ups. If I give them something important to do that's holiday related or they are all over it! It definitely takes some stress off to have some help getting ready for the holidays, even if they are little helpers. 

Make it Fun

Sometimes even I have to lighten up and make things fun. Let yourself get silly with your kids, get into the Thanksgiving, Christmas, New Years spirit and have a little fun. Your kids want to have fun during the holidays and will definitely have more fun if they see that you are. 

Read Holiday Stories

There is something magical about snuggling up for a holiday story time. My toddler loves this and it's something that definitely makes the holidays a little more special for the both of us.

Bake With Them

Nothing creates holiday memories better than baking holiday treats in the kitchen with your kids. They will treasure these magical moments for years to come! 

Keep Holiday Traditions

Despite the stress that may come around during the holidays, try your best to keep holiday traditions that are special to your kids. My son loves having our holiday elf making mischief around the house during the holidays. I just know it's going to be hard this year because I'm pregnant and not feeling very creative. But, this is something that I have to pull through on to make the holidays more magical. 

Do Something Special

Try introducing new holiday experiences and traditions that make things more magical. We love taking our kids to the zoo lights for something special during the holidays. Their eyes are always glowing with the magic of looking at all the lights. Sometimes it's even fun to take a drive around the neighborhood to see the lights.

Check Your Mood

It's always a good idea to try to stay positive even during stressful holidays for your kids. Pay attention to your mood and when you think it may be taking some of the magic out of the holidays, maybe it's time to take some "me time". 

Sing With Them

Sing holiday songs with your kids. Christmas music gets our whole family into the magic of the holidays. The kids love singing along with us and picking their favorite Christmas songs to sing.

Help them Make Gifts or Go Holiday Shopping

Let your kids earn a small shopping budget or help them make some homemade Christmas gifts. It's a great way to teach them the value of giving and makes Christmas more magical for them to see how they can bring happiness to others during the holidays.
How do you make the holidays magical for your kids? I would love to hear from you in the comments below!